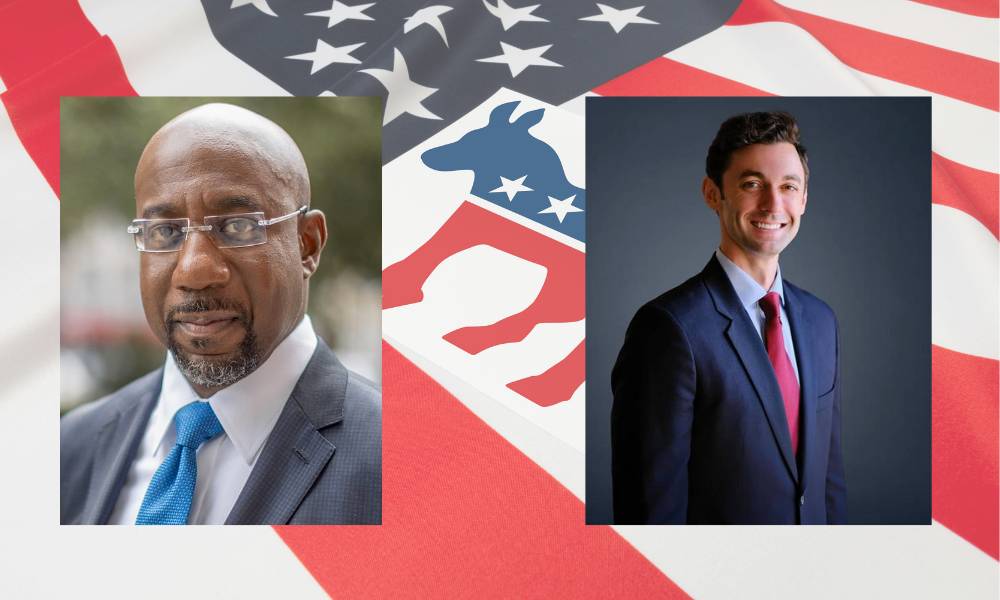 The campaigns for Jon Ossoff and Raphael Warnock, with the Democratic Senatorial Campaign Committee and Democratic Party of Georgia, announced Monday that they have coordinated a leadership team that will direct the multimillion dollar runoff coordinated campaign and outlined some of the key voter targeting and outreach programs already underway.
Democrats announced the following leaders:
Jonae Wartel is the Georgia Runoff Director. Jonae Wartel serves as the Georgia Runoff Director. In her roles at More than a Vote and STG she works to support national programming and client work, engaging key constituencies and advocacy areas. Originally from Marietta, she first began her work in Georgia more than a decade ago working with local candidates. In her role as Southern Regional Director for the Democratic National Committee, serving 13 southern states with a multi-million dollar investment, she returned to the state to run the Early Vote program for  Stacey Abrams 2018 Gubernatorial race. Most recently she served as Chief Program Officer at Organizing Corps 2020, an initiative focused on training 1000 organizers for the 2020 presidential election in key battleground states including Georgia. She worked on the 2008, 2012 and 2016 Presidential campaigns.
Tracey Lewis is the Georgia Runoff Senior Advisor. Tracey is currently the managing director and owner of TL Strategies, LLC, a woman- and Black-owned grassroots consulting firm. Tracey was the Georgia State Director for Biden for President during the 2020 presidential general election and was a senior advisor to Senator Elizabeth Warren's during the presidential primaries. During the 2018 election cycle Tracey was the Deputy Executive Director and Chief Operating Officer for the Democratic Senatorial Campaign Committee. In 2016, Tracey served as a senior advisor in Georgia for Hillary for America during the general election and as the Hillary for America Primary States Director focused on grassroots programs during the presidential primaries.  In 2014, Tracey worked on Michelle Nunn's U.S. Senate campaign and then served as the Georgia Coordinated Campaign Director for the Democratic Party of Georgia.
Andrew Childs is the Georgia Runoff Coordinated Director. Andrew most recently served in Michigan as Deputy Coordinated Director, helping to flip the state for Joe Biden and re-elect Senator Gary Peters. Prior to that, he ran the 2019 Coordinated Campaign in Kentucky that helped elect Andy Beshear as Governor of Kentucky. Andrew also served as Coordinated Field Director for Governor Steve Bullock's successful 2016 re-election in Montana and has previously managed organizing programs on gubernatorial, congressional, and state legislative campaigns across the country. Andrew graduated from the University of Texas, and got his start in organizing by knocking on doors for Democratic candidates in the Houston, Texas area.
Jeremy Halbert-Harris is the Georgia Runoff Senior Political and Field Advisor. Jeremy joins the run-off campaign after serving as Coordinated Campaign Director for Biden For America in Georgia, where he led the effort to flip Georgia blue for the first time in 28 years. Prior, Jeremy led Fani Willis' successful bid to unseat a 24-year incumbent in the Fulton County District Attorney race. Jeremy served as Deputy Political Director for the Democratic Attorneys General Association during the 2019 cycle. In 2018, he served as campaign manager for Charlie Bailey's bid for Georgia Attorney General.
Additionally, the Ossoff and Warnock campaigns in partnership with the DSCC and Democratic Party of Georgia have undertaken a "robust coordinated program to target and reach voters ahead of the January 5th runoff elections." The multimillion dollar initiative announced Monday includes:
in-person paid and volunteer door-to-door canvassing that will observe all necessary public health and safety protocols;
outreach, engagement and mobilization of key constituencies- specifically black, LatinX, AAPI, and young voters – including those who turned 18 after the November 3rd election and are now eligible to vote in the runoffs;
a digital organizing program that uses the sophisticated targeting tools that helped President-Elect Biden and Vice President-Elect Harris flip the state for the first time in decades; and
a multi-channel voter contact and turnout program geared towards educating voters about the unique January 5th runoff election, including the voter registration deadline and in-person early vote dates. This program is targeting voters in the mail, with live phone calls, texts and online.
"As a Georgia native, I am very proud to lead this experienced and dedicated effort to elect two new leaders who will put our state first by fighting for coronavirus relief, to protect health care coverage for pre-existing conditions and for resources to rebuild our communities and small businesses," said Runoff Director Jonae Wartel. "Jon Ossoff and Reverend Raphael Warnock are inspiring Georgians across this state, and we're going to make sure to reach and turnout the voters we need to win."
"Together we are building the strongest organizing and turnout program in Georgia history," Ossoff said in the news release. "I'm grateful to work with this extremely talented team as we organize an unprecedented volunteer army to prioritize outreach to voters of color and rural voters, communicate clearly the stakes of this historic election, and defend every Georgian's sacred right to vote."
"I'm honored and excited to welcome this incredible team to the Georgia Runoff Coordinated Campaign," Warnock echoed in the press release. "These leaders have been at the forefront of the effort to flip Georgia blue and have helped elect Democrats in competitive races around the country. With their expertise, we will continue to reach and engage the Georgians who voted for change on November 3rd."