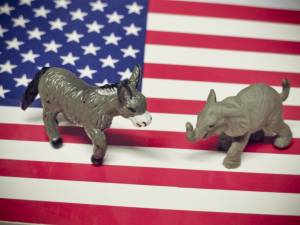 As elected officials work with public health officials to evaluate how the state should reopen businesses shuttered by the precautions put place to combat COVID-19, some in the political arena have capitalized on the opportunity to call Republican leaders.
The Democratic Party of Georgia released the following statement Monday:
Just minutes before over 1,000 new COVID-19 cases and 42 more deaths were reported in Georgia, Governor* Brian Kemp announced plans to re-open some businesses like movie theaters and bowling alleys, as healthcare care providers continue to beg for basic protective gear.  Kemp's recommendation goes against the expert advice of medical professionals who warn that Georgia's coronavirus crisis is "far from over." 
DPG Chairwoman Nikema Williams released the following statement:
"Without enough testing, without enough supplies for doctors and nurses, and without listening to medical professionals, the governor's actions today will make this crisis even worse and put more Georgians at risk. Now is the time to listen to the health providers and public health experts who tell us what we need to keep our communities safe. I urge all Georgians to listen to the advice of their health care providers and stay home — even if their governor won't."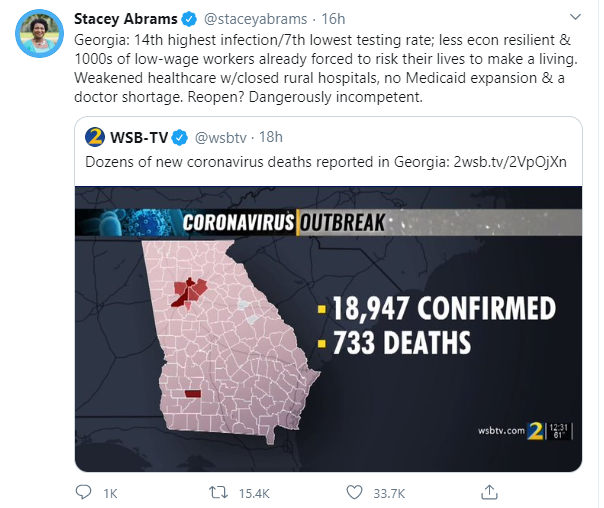 Sarah Riggs Amico, candidate for US Senate, released the following statement in response:
"Any attempt to reopen large segments of our economy without expansive COVID-19 testing poses a direct threat to the health and safety of our communities and frontline healthcare workers. Brian Kemp's decision amounts to reckless endangerment and will surely lead to an even greater crisis for Georgia families.
More than 18,000 Georgians have contracted this deadly virus already, and the nation's leading medical experts tell us that number will only grow if public safety efforts are prematurely lifted. Republican leadership – from Donald Trump to David Perdue to Brian Kemp – need to remember the responsibility they have as elected officials to protect the public interest and adhere to the guidance of medical professionals. Dangerous and impulsive actions now will only plummet us deeper into crisis in the months to come."