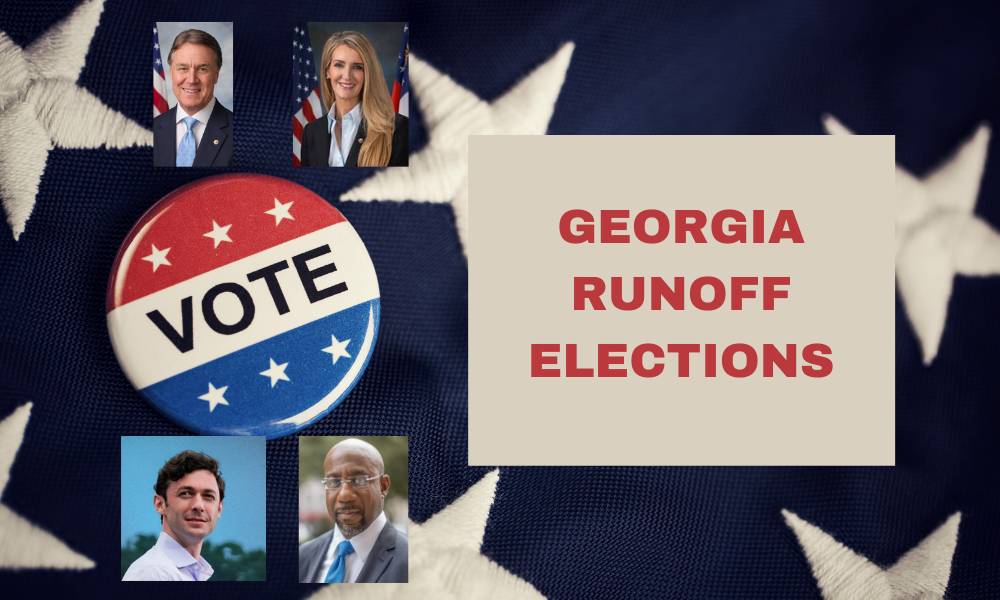 While more than four million people voted in perhaps one of the most watched runoff elections in history, as of 10:00 a.m., some precincts are still outstanding as poll workers await absentee ballot tallies and provisional ballot curing.
Nevertheless, the candidates and the parties were vocal throughout the night.
At 1:25 A.M. on Wednesday morning, the Ossoff campaign said:
"When all the votes are counted we fully expect that Jon Ossoff will have won this election to represent Georgia in the United States Senate. The outstanding vote is squarely in parts of the state where Jon's performance has been dominant. We look forward to seeing the process through in the coming hours and moving ahead so Jon can start fighting for all Georgians in the U.S. Senate."
At 2:15 A.M., the Perdue campaign released the following statement:
"As we've said repeatedly over the last several weeks and as recently as this evening, this is an exceptionally close election that will require time and transparency to be certain the results are fair and accurate and the voices of Georgians are heard. We will mobilize every available resource and exhaust every legal recourse to ensure all legally cast ballots are properly counted. We believe in the end, Senator Perdue will be victorious."
At 9:09 A.M. on Wednesday, the Democratic Party of Georgia sent out the following email:
We elected the first Democratic senators from Georgia in a decade and the first Black senator from Georgia in our state's history. In the process, we shattered previous turnout records and proved that what happened in November wasn't just a fluke. A new Blue Georgia is here, and it's here to stay.
It's important to note that this didn't happen overnight. Grassroots organizers have been registering and empowering voters in their communities for a decade, and all of that work set the stage for what happened in this historic election. Every text sent, every door knocked, every phone call made, and every generous donation received made this possible.
We're so grateful that so many of you stepped up and did your part to make these victories happen — and we're proud to have all of you on our team. This victory belongs to all of us.
Cheers,
The Democratic Party of Georgia Team
At 9:35 A.M, Congresswoman Nikema Williams, Chairwoman of the Democratic Party of Georgia released the following statement:
"Georgia voters have spoken, and I am so proud to congratulate my friends Raphael Warnock and Jon Ossoff as our next senators. When the votes are all counted, the results will be clearer than ever: Georgia voters have resoundingly called for change and the promise of America that Jon and Raphael will deliver.
 
This victory has been a long time coming, and is thanks to the tireless efforts of organizers, volunteers, campaign staff, and the grassroots movement who have believed in the power of Georgia voters for far longer than one or two election cycles. Most of all, today's win is thanks to the empowered Georgia voters who used their votes to change the course of this country for the better — thank you, and we will keep fighting for you."
Similarly, Raphael Warnock updated his Twitter account to reflect his presumed victory just ahead of 10:00 a.m. Wednesday: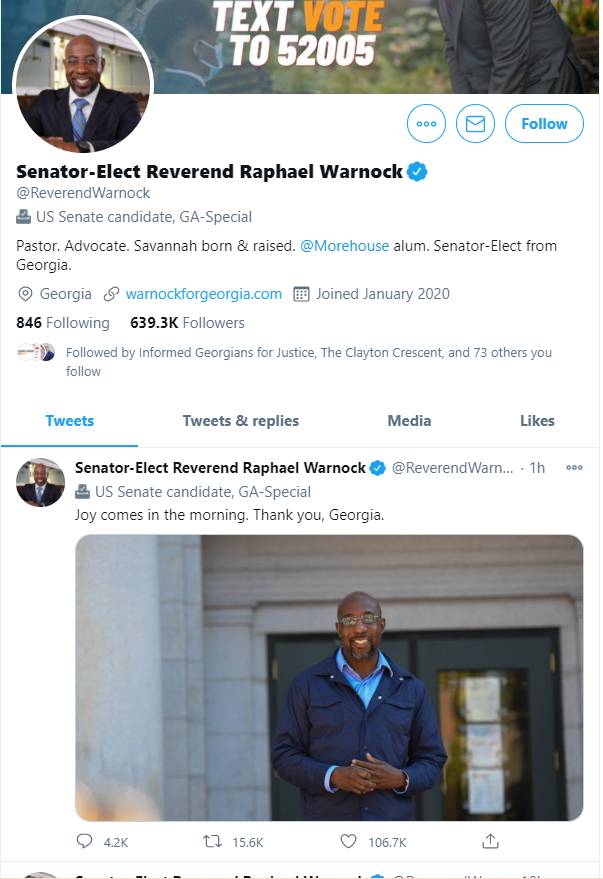 As of 10:00 a.m., the Secretary of State's website showed results as of 9:51 a.m. on January 6, with outstanding ballots and results as follows:
2,700 absentee in Fulton
4,800 absentee in Gwinnett
3,000 to 4,000 in Chatham
an unknown number in Dekalb County
an unknown number up to 17,000 of military/overseas ballots (these, in particular, have until Friday, January 8 at 5:00 p.m. to arrive)