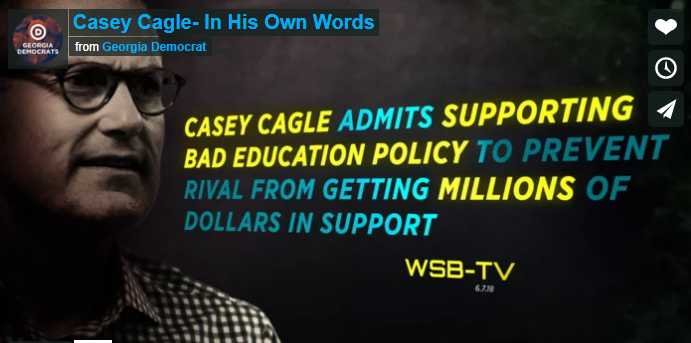 Though the Republican nominee for Governor of Georgia has yet to be decided, the Georgia Democrat Party is already attacking Lieutenant Governor Casey Cagle over a secret recording released last week. The recording reveals Cagle admitting he used legislation to undermine primary opponent Hunter Hill, who came in third place.
Cagle can be heard saying he had to stop a lobbying group from putting $3 million behind Hill.
"Is it bad public policy? Between you and me, it is. And I can tell you how it is (in) a thousand different ways," Cagle said. "I said, 'Lindsey, you need to understand this bill is going to happen. It's going to happen.' Because it had to, to keep the money away from Hunter," Cagle said. "I mean, I was playing defense. I'm being honest with you."
He went on: "It ain't about public policy. It's about (expletive) politics. There's a group that was getting ready to put $3 million behind Hunter Hill. Mr. Pro-Choice. I mean, Mr. Pro-Charters, vouchers."
The Democrats sent out a press release Tuesday.
Democratic Party of Georgia Chair DuBose Porter releases the following statement regarding Casey Cagle's admission that he passed bad legislation due to political ambition:
"The Casey Cagle that we heard in the audiotape is the same Casey Cagle that Georgians have gotten to know all too well over the past 28 years. The same Casey Cagle who willingly puts the politics of vouchers over improving the access and quality of education for Georgia children. The same Casey Cagle who has proven time and time again that he will do ANYTHING to win an election–even if it means selling out our children.
"This is the type of shady deal-making that has flourished under Cagle's watch. He makes decisions based on politics and campaign contributions rather than what is in our best interests—In this case the 1.7 million Georgia children attending our public schools.
"To get Cagle to tell the truth, it requires a secret, closed-door meeting with somebody from whom he needs a favor. Apparently, this is the only type of setting where he can be honest.
"Cagle's integrity is for sale, and his 28-years of back-room politics has taught him that dark money donors are more important than the needs of Georgia families.
"Some say that Cagle's actions are despicable. Others say that this is a disturbing pattern. They're both correct.
"He must answer very serious ethical and legal questions. He must explain to Georgia families without any of his trademark political spin.
"These recordings reveal the truth about Casey Cagle. He will put politics ahead of people to push his own political ambition, and that's not the kind of leadership Georgians want in their next governor."
The organization released a video along side the press release .
Cagle has tried to calm the waters after the storm followed the release of the recording. In an exclusive interview with The Atlanta Journal-Constitution and Channel 2 Action News, Cagle said his remarks were purely "political exchange."
"In terms of the importance of doing something good for Georgia, we did. And I'm proud of what we accomplished," he said. "Just like President Trump didn't get everything he wanted on the budget deal or the tax cut, it was certainly for the greater good. My record speaks for itself."
Cagle's runoff opponent, Brian Kemp, says it raises "ethical and legal questions."
Former candidate Hunter Hill told the AJC that it proves Cagle is "bought and paid for." "I worked hard in the state senate to advance conservative reforms like school choice with the intention of benefiting our citizens. It's sad to see those same policies being sold to benefit a career politician's political ambitions."