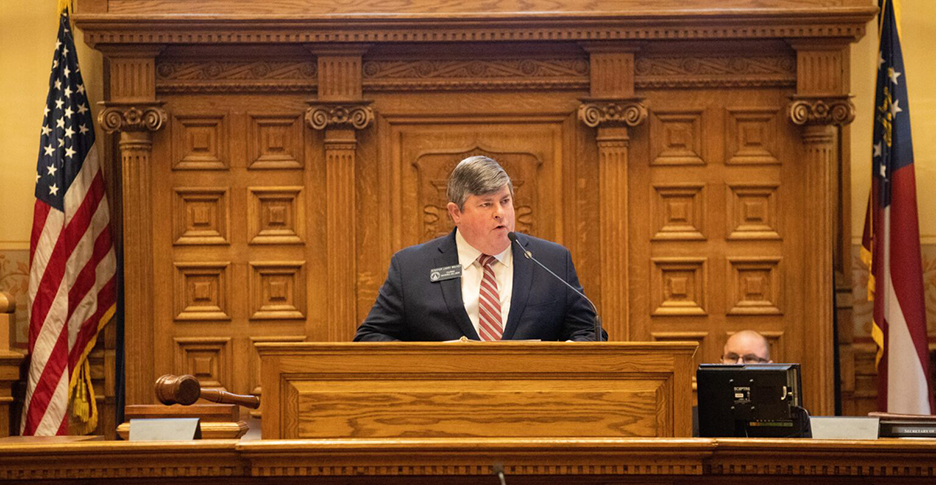 By: Sen. Larry Walker (R – Perry)
Only one week remains in the 2023 Legislative Session. This week, the Senate worked tirelessly, continuing to pass legislation that will best serve the needs of all Georgians. A major milestone passed this week, House Bill 19, the proposed budget for the 2024 Fiscal year. In addition, several measures received final passage with a few bills of note. I am eager to provide you with an update on legislation that will soon head to the Governor's desk for signature.
As previously mentioned, the House Bill 19 finally made its way to the Senate floor for consideration this week. Carried in the Senate by the Senate Appropriations Chairman Sen. Blake Tillery (R – Vidalia), HB 19 accounts for over $32 billion in total state funds with $27.8 billion of those funds being recognized under the Governor's state general fund. In terms of education, the Senate version of the FY 2024 budget funds HOPE Scholarships under the Georgia Student Finance Commission at 100% of tuition. In addition, this budget will provide for a $2,000 cost-of-living adjustment to all full-time, benefit-eligible state employees, certified local educators, as well as providing increased funds to higher education. Further, HB 19 would provide an additional $4,000 salary adjustment to specific law enforcement job classes in various state agencies in addition to adding an $846.1 million to fully fund an increase in employer contribution per-member per-month adjusted rate for certified school employees. I am proud of the many weeks of hard work and dedication that went culminating this budget. As you well know, it is our primary responsibility to ensure that all taxpayer dollars are properly and adequately appropriated to address the priorities and needs of all Georgians. While the bill is now in House and Senate Budget Conference Committee, I was proud to see the Senate's version pass the Senate with bipartisan support, and I anticipate House Bill 19 will soon come back to us for a final agree.
Also this week, a number of priorities of Gov. Brian Kemp were brought to the Senate floor for consideration. House Bill 87, carried by the Governor's Floor Leader Sen. Bo Hatchett (R – Cornelia), known as the "Nontraditional Special Schools Act," seeks to establish "completion schools," which give young students additional options to obtain a high school diploma. For students who are unable to attend school during the traditional hours of 8:00 a.m. to 3:00 p.m. due to family matters or work obligations, HB 87 would give those students more flexibility to continue to work towards earning their high school degree. I was proud to support HB 87 as we all know that schools are essential to our communities, our workforce, to Georgia families, and much more. I was pleased to see HB 87 pass with bipartisan support as this necessary legislation will allow Georgia to continue to uphold the standard as the number one state in the nation in which to do business, to live, to work, and raise a family.
Keeping on the theme of the Governor's priorities, Floor Leader Sen. Mike Hodges (R – Brunswick) brought House Bill 128 to the floor for a vote this week. Aimed at providing revenue and taxation for minorities and veterans, HB 128 is a product of an executive order issued by Gov. Kemp in July of 2022 to the Department of Administrative Services to address certain challenges small businesses face during the state's procurement process. Small businesses in Georgia are what keep our economy thriving. Therefore, it is prudent that we address all challenges business owners are faced with to ensure each can continue to run their businesses and in turn, allow Georgia's economy to continue to thrive. I was proud to support this measure and see it pass with bipartisan support.
In other news, I had the pleasure of carrying a few House Bills that came out of the Senate Committee on Insurance and Labor. House Bill 221 and House Bill 222. Both pieces of legislation are aimed at amending certain regulations. Specifically, HB 221 would amend the process for insurance companies to seek rate approval for non-mandatory minimum limits for private passenger motor vehicle insurance while HB 222 would amend certain rules and regulations under the Department of Insurance. As Chairman of the Senate Insurance and Labor Committee, I was proud to carry these measures, supported by Georgia's outstanding Insurance Commissioner, in the Senate and was pleased to see both pass with bipartisan support.
I am also pleased to report Senate Bill 106, known as the "Healthy Babies Act," passed in the House with bipartisan support. As you know, SB 106 would implement a pilot program administered through the Georgia Department of Community Health (DCH) which would provide remote patient monitoring for expectant mothers under Medicaid. SB 106 seeks to address our ongoing concern with maternal and infant mortality in Georgia. I was proud to sponsor this legislation and look forward to providing you with additional updates on the progression of the bill as it now makes its way to Gov. Kemp's desk to be enacted into law.
Sine Die, the final day of the 2023 Legislative Session will fall on Wednesday, March 29. With only a few short days left in this legislative session, both the Senate and the House remain hard at work to ensure all necessary legislation is granted final passage before the gavel falls on Legislative Day 40. This week alone, the Senate debated and voted on a total of 26 pieces of legislation from the House. In turn, 30 Senate bills have been granted final passage by the House. With over 60 pieces of legislation up for consideration on Legislative Days 39 and 40, I anticipate next week will be the Senate's busiest week yet. I look forward to providing you with final updates next week as the 2023 Legislative Session comes to a close. As always, it is a pleasure to serve you in Atlanta.
---
Sen. Larry Walker serves as Secretary of the Senate Majority Caucus. He also serves as Chairman of the Insurance and Labor Committee.  He represents the 20th Senate District, which includes Bleckley, Dodge, Dooly, Houston, Laurens, Pulaski, Treutlen and Wilcox counties.  He may be reached by phone at 404.656.0095 or by email at larry.walker@senate.ga.gov.