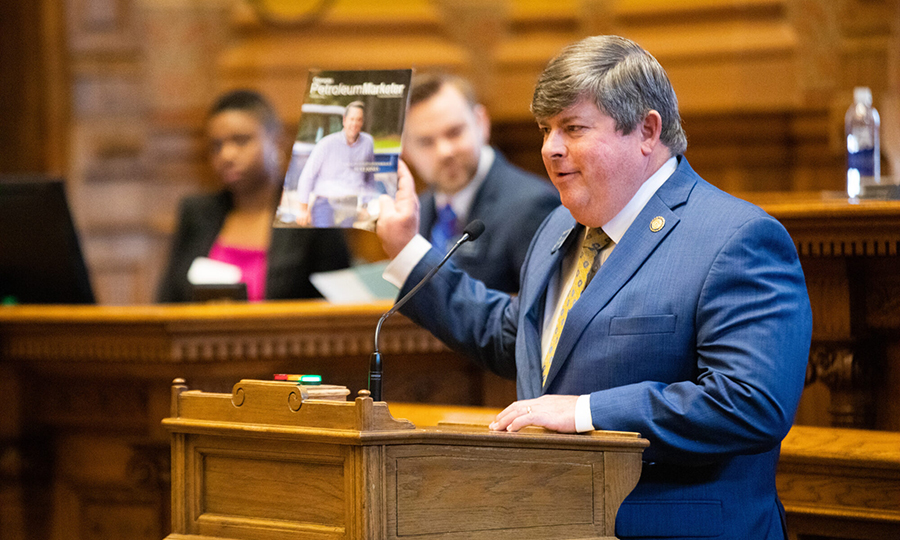 By: Sen. Larry Walker (R – Perry)

We traditionally set aside the week following the convening of session for Joint House and Senate Appropriations Committee meetings, where we begin the process of evaluating the budget and dive into the Governor's recommendations for adjustments to the current budget and setting the next fiscal year budget. As you may know, the only action required of the Georgia General Assembly stipulated in the state constitution is that we pass a balanced budget each year, and I do not take this responsibility lightly.  The budget reflects our priorities as a state, and it is imperative we thoroughly and thoughtfully allocate funding in a manner that best serves the needs of all Georgians. Georgia is a large and growing state with a complex budget, and there is simply no way to cover everything that I would like to cover here.  Therefore, I will focus this week's column on some of the highlights of the proposed Amended FY 2023 and FY 2024 budgets that have generated the most interest.
In the Amended FY 2023 budget, the Governor recommends $100 million of our revenue surplus be returned to all Georgians that paid individual state income tax in 2022. If passed, individual filers will receive up to a $250 tax refund and joint filers will receive as much as a $500. All state revenue comes from you, the taxpayer.  So, it is very appropriate that we return surplus funds to the taxpayer rather than growing government even more.
As has been widely reported, the Governor's FY 2024 budget includes an across the board pay raise for state employees and educators, providing a $2,000 cost of living adjustment. I strongly support this and believe that our dedicated teachers and state employees have earned and deserve this COLA.
Each year, education in Georgia accounts for over 50% of the state's budget. This year is no different. We must continue to invest in our education system at both the K-12 and higher education levels. Last year, a large portion of funds were appropriated to fund the K-12's QBE formula. This year, an additional $745 million is recommended in the Amended FY 2023 and more than $1.1 billion in FY 2024 for K-12 education, fully funding the Quality Basic Education formula. It is imperative that we continue to build a workforce our growing state needs and that can only be achieved through providing our young Georgians with the highest level of education that will lead to fulfilling employment.
Healthcare in Georgia continues to remain a top priority. More specifically, we know that healthcare remains a significant cost for many Georgia families. With that being said, I am pleased to see the FY 2024 budget recommends including $52 million to implement the Georgia Pathways Coverage program which was established pursuant to the Patients First Act, legislation passed in 2019. The Georgia Pathways Coverage Program will increase access to adequate health insurance statewide and give Georgia families who struggle to find coverage through their workplace a better opportunity to provide care for their families. When the Patients First Act was signed in 2019, Georgia only had four carriers offering plans in the individual market. Today, we have seen an astonishing 250% increase with 10 carriers offering plans for 2023.
Agriculture is Georgia's number one industry, providing jobs, goods and infrastructure, boosting our economy despite the record high inflation we have experienced in recent years. I am pleased to see that Governor Kemps FY 2024 budget proposal includes recommending funds be allocated to the Georgia Agricultural Trust Fund which is generated through agricultural tax exemptions to provide funding for the maintenance and operations of state farmers' markets and marketing to promote the production of Georgia's agricultural products. In addition, the Governor recommends providing funds to the Department of Transportation to replace lost motor fuel tax revenue resulting from the temporary suspension of this tax in order to help Georgians cope with exorbitant fuel costs.
While this is just a small fraction of what is recommended for the completion of this fiscal year and the upcoming fiscal year, I am pleased with the progress we have made thus far and look forward to getting these budgets vetted and passed through the General Assembly and signed by the Governor.
Next week, we will reconvene in the Senate Chamber Monday through Thursday for legislative days 5-8. We also plan to get back to work in our committees to assess legislation brought before us. If you have any questions or concerns related to the budget or any potential legislation that may come up this year, please do not hesitate to contact my office. I am here to serve you.
---
Sen. Larry Walker serves as Chairman of the Insurance and Labor Committee.  He represents the 20th Senate District, which includes Bleckley, Dodge, Dooly, Houston, Laurens, Pulaski, Treutlen and Wilcox counties.  He may be reached by phone at 404.656.0095 or by email at larry.walker@senate.ga.gov.