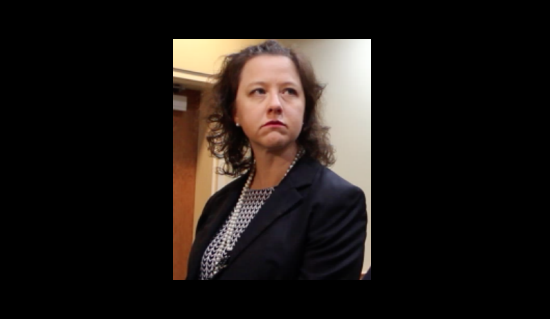 The District Attorney who has garnered national headlines over concerns of conflicts of interest, inequitable application of the law, and questionable ethics has a full campaign coffer but empty accounting practices.

Noticeably absent from the campaign finance reports of Brunswick District Attorney Jackie Johnson are any donations from people in the judicial circuit. Additionally, inconsistent reporting, routine amendments to reports, a lack of accounting on interest bearing accounts, and a confusing cyclical loan and repayment schedule involving only herself shows unreasonable and unaccountable accounting practices for Johnson's campaign dating back to at least 2015. 
Campaign Contributions
Brunswick Judicial Circuit District Jackie Johnson raised a mere $1,000 in campaign donations in the last six months. 
Documentation from the Georgia Government Transparency and Campaign Finance Commission shows that while Johnson shows more than $120,000 in cash funds in her campaign account, she is also carrying $157,157.46 in campaign debt from the 2012 and 2016 election cycles.
The June 30th campaign finance report shows Johnson did not receive any campaign contributions during the period beginning April 1, 2020 and ending June 30, 2020 either, though the grand total for cash on hand heading into November is $120,325.85.
The only other campaign contribution Johnson's reports in show for 2020 is a $1,000 from former Democratic state representative and Attorney Bobby Lee Cook out of Summerville in northwest Georgia's Chattooga County. Johnson also reported two in-kind donations to her own campaign amounting to $600 for breakfast sponsorships. 
During the reporting period, Johnson paid $1,298.70 to Southeastern Marketing Services in Statesboro for 'campaign consulting and marketing' and $160.00 to W. Gregg & Assoc.LLC in Savannah for editing services. Both of those expenditures were reported in June 2020. [The GA Secretary of State's website shows Southeastern Marketing Services assigned to Roy Akins, a business owner since 1984]
In the two earlier reports for 2020, Johnson paid out just over $6,000 for consulting, a website, tshirts, billboards, and design. Of note, Johnson paid attorney Jim Stein and his wife more than $1,500 for 'party supplies' and 'shrimp' in 2019. Stein is presently representing Johnson in her capacity as District Attorney and has sent a number of letters in her defense to both Glynn County Commissioners and The Baxley Informer. In late 2019, Johnson also paid $200 for helium at 'Johnson's Florist' in Alma. 
Johnson received these contributions in 2019:
Donor
City
Amount

Donation

(if other than cash)

Ronald Adams
Brunswick
$200
Brannen Crab Co.
Kingsland
$250

(in kind)

Live Crab for party
Daley and Associates
St. Marys
$500

Sherry Gibbs

Jesup
$300

(in-kind)

Bwk Stew for Screven Day
Jack Johnson
Alma
$2,500
Jackie Johnson
Woodbine
$550

(in-kind)

Party prizes and expenses
Jackie Johnson
Woodbine
$1200

(in-kind)

parade supplies
Michael Maloy
St. Simons
$500

Marissa Tindale

Brunswick
$250
Red denotes employee of Brunswick Judicial Circuit
No contributions or loans were made to the campaign in 2017 or 2018. 
Confusion Over Reporting
Campaign finance disclosures report contributions and expenditures for the respective quarter and/or period, but also 'contributions' and 'expenditures' to date – since the inception of the campaign initially, which for Johnson dates back to 2010 when the campaign committee was created. For all intents and purposes, it is a running 'lifetime total' for both items to be reported by candidates. But Johnson's reports have been inconsistent, even when they have been filed consecutively and the next report is based on information filed on the last.  
January 31, 2019

– Johnson reports $98,818.16 in contributions to date, followed by $125,000 in loans made to her campaign in a non-election year. She then denotes a $98,984.12 'loan repayment' to herself for campaign expenditures from the 2016 primary and reports a clean $125,000 cash on hand.

June 30, 2019

report –  Johnson reported $224,112.08 in contributions to-date (including loans), but in 

December 31, 2019

report – Johnson's to-date contributions totaled $129,696.38 – almost $100,000 less.

In June 2019, Johnson reported $98,984.12 in expenditures to-date, but in January 2020 reported $3,008.67 to date. Johnson also filed the June 30, 2019 report twice – once reporting interest earned on the $125,000 cash balance and later with a higher amount of interest.

Johnson routinely omitted the interest earned on the reports – including at least three times in 2016.
You can see how these discrepancies continue below:
| | | | | |
| --- | --- | --- | --- | --- |
| Contributions to Date | Expenditures to date | Reporting Period | Net balance on hand | LOANS ISSUED |
| $114,117.84 | $15,648.42 | Dec 31, 2016 | $98,469.42 | |
| $114,055.84 | $15,648.42 | Oct. 25, 2016 | $98,407.42 | |
| $114,055.84 | $15,648.42 | Sept 30, 2016 | $98,407.42 | |
| $113,953.06 | $15,648.42 | June 30, 2016 | $98,304.64 | |
| $113,871.30 | $15,648.42 | March 30, 2016 | $98,222.88 | |
| $13,843.90 | $14,848.42 | Jan 31, 2016 | $99,022.88 | $100,000 |
| $13,843.90 | $0 | June 30, 2015 | $13,843.90 | |
Indebtedness 
In the June 30, 2018 report, Johnson reported $45,000.00 in outstanding debt to herself for the campaign cycle in 2012 and $131,141.58 in debt from the 2016 primary election. The grand total of debt is $176,141.58
Despite making a $13,858.42 loan repayment to herself in January 2016, Johnson continued to reflect the same indebtedness amount. Particularly of concern is the period between June 30, 2015 and January 2016 when a repayment was made, but indebtedness held steady and totaled more than ever reported. It appears that somewhere along the line, a $45,000 outstanding loan from 2012 was accounted for twice but never amended, so Johnson has been repaying loans to herself for an extra $45,000 she never paid into the campaign.
In February 2017, all of Johnson's 2016 election year reports were amended on the Campaign Finance website – except the one where the $45,000 was doubled, which occurred in the January 31, 2016 report.
From 2016 through the June 30, 2018 report, Johnson reported $45,000.00 in outstanding debt to herself for the campaign cycle in 2012 and $131,141.58 in debt from the 2016 primary election for a grand total debt of $176,141.58. At some point, a full repayment was made which wiped out the record of the 2012 and 2016, which consolidated all of the debt into the 2020 cycle, making it more difficult to track.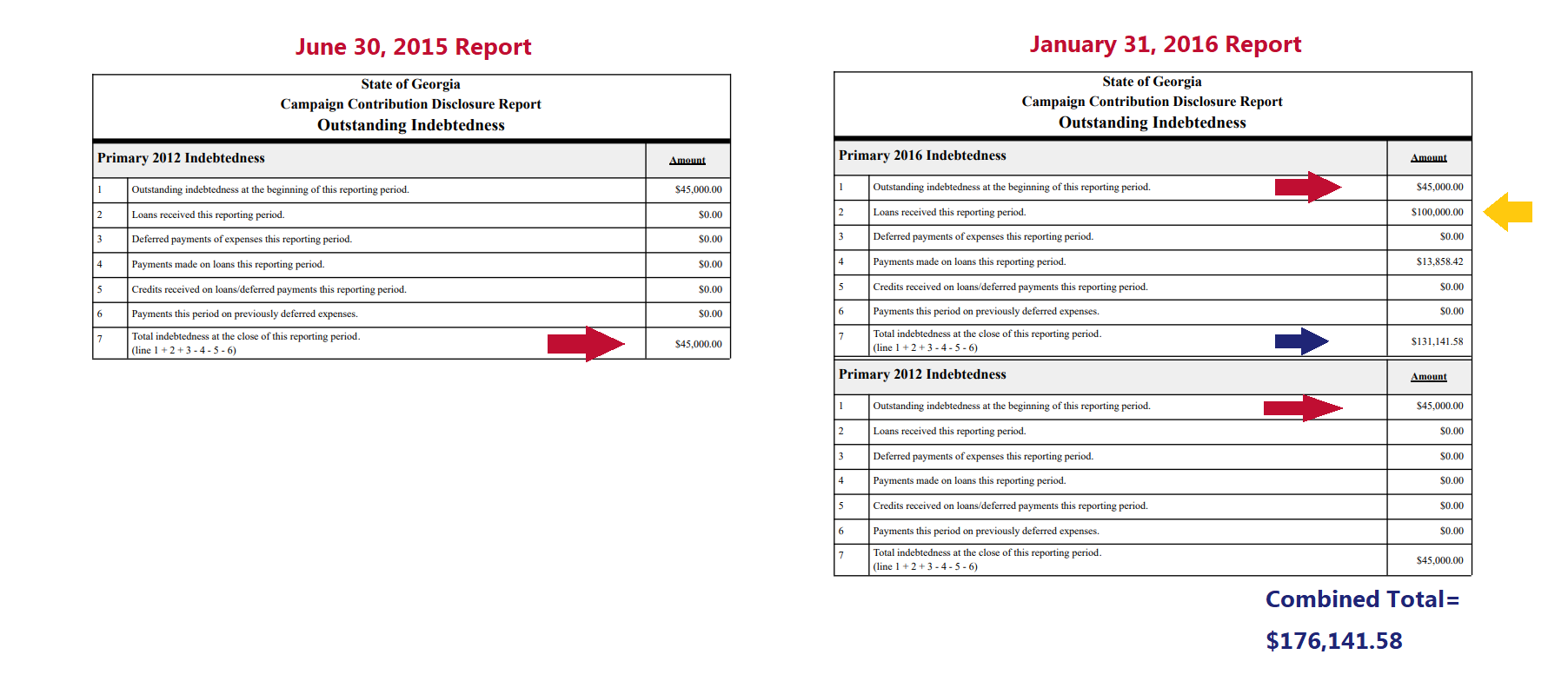 It was not a one-time mistake, however. the next report, on March 31, 2016, shows the funds carried over twice as well.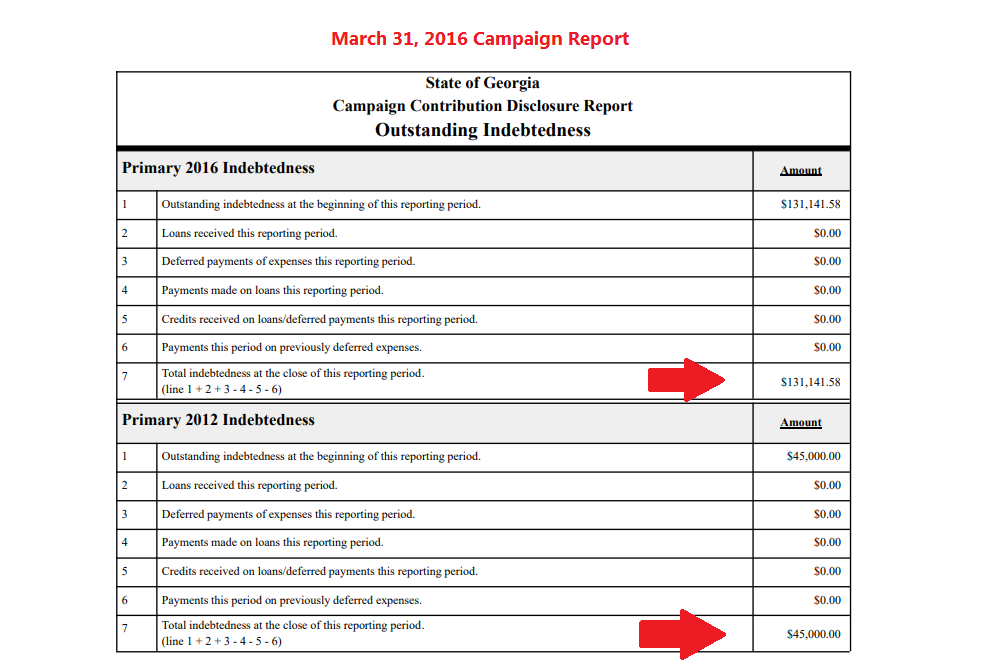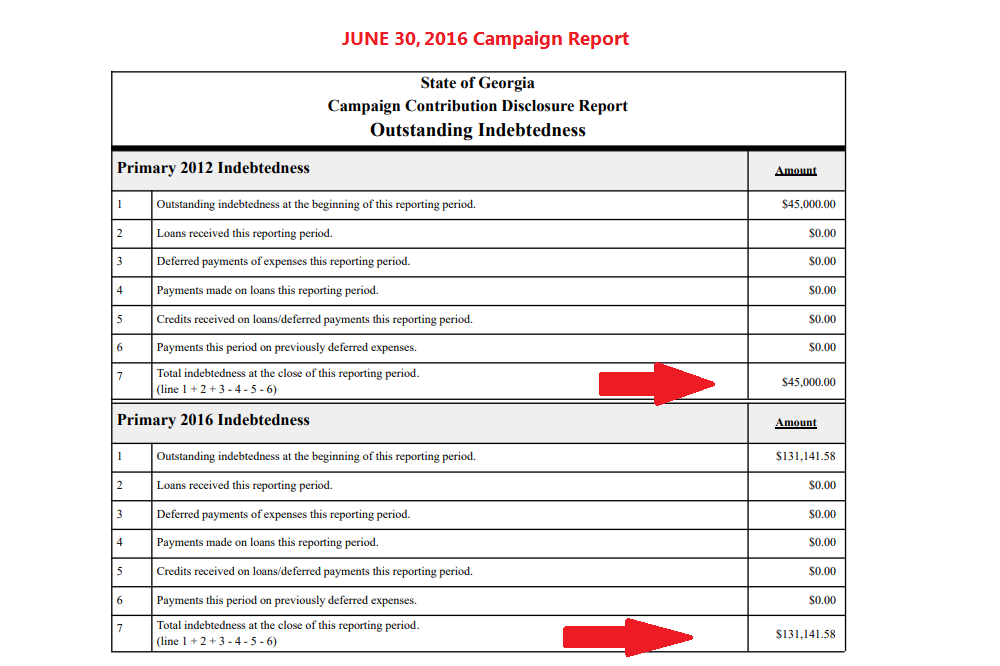 | | | | |
| --- | --- | --- | --- |
| REPORT AMT | DEBT AMOUNT | REPAYMENTS | LOAN MADE |
| June 30, 2020 | $157,157.46 | | |
| April 30, 2020 | $157,157.46 | | |
| January 31, 2020 | $157,157.46 | | |
| Dec. 31, 2019 | $157,157.46 | | |
| June 30, 2019 | $157,157.46 | | |
| January 31, 2019 | $157,157.46 | $98,984.12 | $125,000 |
| June 30, 2018 | $176,141.58 | | |
| January 31, 2018 | $176,141.58 | | |
| June 30, 2017 | $176,141.58 | | |
| January 31, 2017 | $176,141.58 | | |
| December 31, 2016 | $176,141.58 | | |
| Oct, 25, 2016 | $176,141.58 | | |
| Sept 30, 2016 | $176,141.58 | | |
| June 30, 2016 | $176,141.58 | | |
| March 30, 2016 | $176,141.58 | | |
| Jan 31, 2016 | $176,141.58 | $13,858.42 | $100,000 |
| June 30, 2015 | $45,000 | | |
June 30, 2020 campaign finance report
December 31, 2019 campaign finance report 
June 30, 2019 campaign finance report
January 31, 2019 campaign finance report
June 30, 2018 campaign finance report