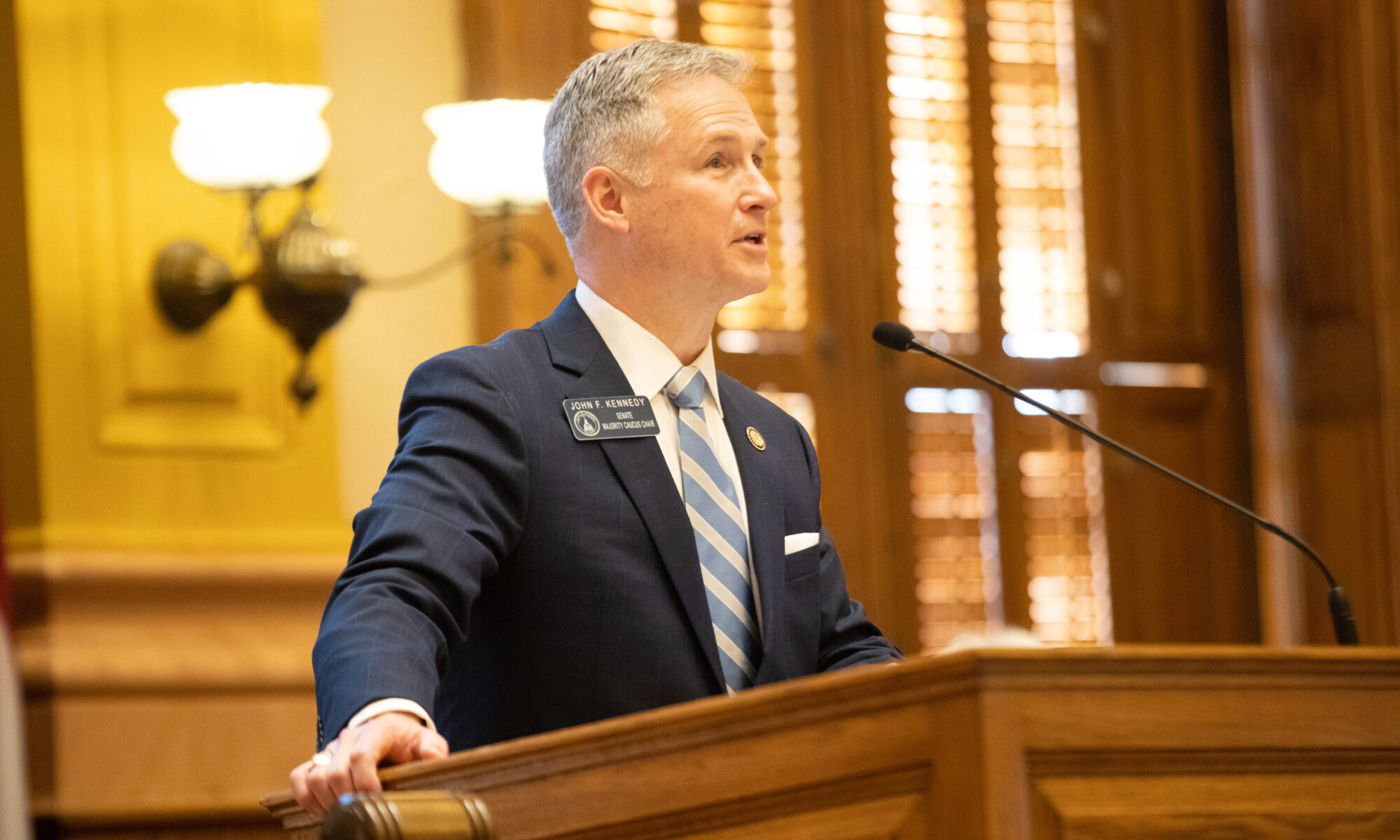 By: Sen. John F. Kennedy (R – Macon)
On Monday, January 9, the Georgia General Assembly officially gaveled in to kick off the 2023 Legislative Session.  Our state constitution requires that the Georgia General Assembly convene on the second Monday in January and is limited to a term made up of 40 non-consecutive legislative days. I am pleased to announce that I will be serving as President Pro Tempore of the Georgia Senate for the duration of the new biennium.  I am honored that my Republican colleagues in the Senate have chosen me to serve in this role and look forward to supporting a strong conservative policy agenda for all Georgians. With new leaders and new faces in the Senate Chamber, I anticipate that the 2023 Legislative Session will be historic, and I look forward to this opportunity to forge new partnerships and build on the work of our predecessors to continue to grow our state.
The second week of the Legislative Session is devoted to Joint Hearings of the Senate and House Appropriations Committees. "Budget Week," as we call it, is a time for the heads of Georgia's state agencies and departments to present their budget requests to the General Assembly for review. These hearings are often long but critical in ensuring that your taxpayer dollars are spent as responsibly as possible.
Following Budget Week, the Senate heard from Governor Brian Kemp as he delivered his State of the State address pr his legislative and budgetary priorities for the 2023 Legislative Session. Each year provides its unique set of challenges but recently, the budget process has been difficult due to the state-wide economic impact of the COVID-19 Pandemic. Despite those trying times, Georgia continues to prevail as our economy remains strong. This year was no different. Here are a few highlights from the Governor's address:
The Governor's proposed budget includes appropriating an additional $1.9 billion to education to fully fund the QBE formula. When Governor Kemp first ran for office, he promised to raise teacher pay by $5,000. Because that pledge has been fully delivered, the Governor proposes an additional $2,000 to be appropriated for yet another teacher pay raise. It is imperative that we continue to recognize our teachers for their hard work as they are the most impactful elements of Georgia's workforce.
In regards to healthcare, there are 67 counties with less than 10 physicians in the state of Georgia. The need for more healthcare professionals is unprecedented. I am pleased to report that Governor Kemp's budget proposal includes over $4.5 million to fund loan repayment programs to grow the number of healthcare workers in our state. Governor Kemp is also calling for 102 residency slots through an investment of $1.7 million, which will exceed the initial goal number of this program. This is an area of discussion I do not take lightly and I am fully supportive of these proposals so that we can get to work providing the highest level of healthcare services to Georgians.
Additionally, I, Lt. Governor Burt Jones, Senate Majority Leader Steve Gooch (R-Dahlonega) and other members of the Senate Majority Caucus, outlined our legislative priorities for the 2023 Legislative Session. The priorities are as follows:
Bolstering opportunity and innovation in Georgia's economy through conducting a prudent income tax reform and tax credit review by supporting the implementation of new taxpayer and homeowner relief initiatives, and laying the groundwork for the continued electrification of transportation.
Cultivating an educated workforce by establishing a Senate-led effort to improve literacy rates in line with graduation rates, implementing learning loss grants, and reviewing degree requirements for state employment.
Creating safer communities through enhanced school safety legislation by establishing serious penalties for the recruitment of minors for gang activity, and creating aggressive bail bond reform for violent offenses.
Supporting the health and well-being of families and at-risk youth through the expansion of telehealth services for rural and underserved communities, increasing support for foster families and children, and extending benefits for income-eligible expectant mothers.
We believe these proposals are not only needed, but will only improve quality of life for all Georgians. Georgia has been the number one state in the nation in which to do business for nine consecutive years. But in addition to that, Georgia remains the number one state in the nation to also live, to work, and to raise a family. Senate Republicans plan on upholding those standards. I fully support each of these recommendations and look forward to what future developments will take place in light of these legislative priorities.
Last week, the Senate considered its first bill of the session on the Senate floor. Senate Bill 11, sponsored by Sen. John Albers (R – Roswell), is known as the "Georgia Fights Terrorism Act", and allows the Georgia Bureau of Investigation to either work independently or in conjunction with other law enforcement agencies to investigate and arrest individuals or groups engaged in domestic, cyber, biological, chemical or nuclear terrorism. Measures such as this are important not only to protect the lives and property of bystanders and business owners, but also to shield peaceful protestors from potential violence. I was proud to support this measure and believe it sets the tone for our body to pursue positive, meaningful legislation for the session.
Finally, I have some economic development news that I am excited to share with middle Georgia. Governor Brian Kemp recently announced that Green Georgia, LLC, a sustainable building materials company, will invest $59 million in a new headquarters for the company, located in Thomaston, Georgia. This major investment will create over 170 new jobs for Georgians. Green Georgia, LLC has pledged to partner with local contractors in the area to construct the over 300,000 square-foot production facility at the Thomaston-Upson Industrial Park. This facility will support addressing the increasing demand for more eco-friendly building solutions across the Southeast. Middle Georgia is primed for economic growth and I am excited to hear about more opportunities coming to our region of the state. This new facility will not only create 170 jobs, but will also aide in the continued growth of Georgia's thriving economy. I look forward to providing you with updates on this new facility as operations are projected to begin by early 2024.
If you have any questions, comments or concerns about these bills or any other currently under consideration by the General Assembly, please do not hesitate to reach out to my office.
---
legis.ga.gov
Sen. John F. Kennedy serves as the President Pro Tempore of the Georgia State Senate. He represents the 18th Senate District which includes Upson, Monroe, Peach, Crawford, and portions of Bibb and Houston Counties. He may be reached at 404.656.6578 or by email at john.kennedy@senate.ga.gov