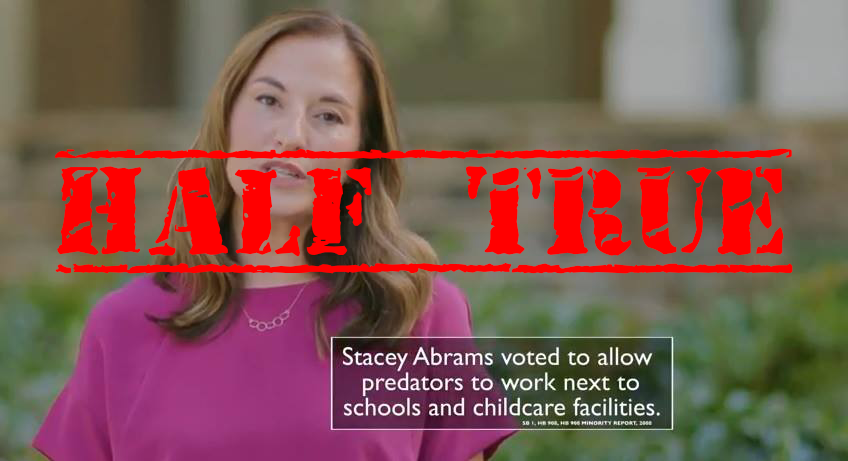 The Georgia Republican Party has released another ad in the General Election cycle, the latest targeting Democratic gubernatorial Stacey Abrams and her legislative record.
The GA GOP in the ad released Wednesday titled 'Drop' focuses on Abrams' voting record with regard to sex crimes and protections for victims.
'Drop' showcases a mother named Jessica dropping her child off at school before she shames Abrams for failing to protect children, women, and victims from sexual predators. In a press release issued with the ad, Chairman of the GA GOP John Watson is quoted saying, "While getting rich on taxpayer money and political non-profits funded by George Soros, Abrams rejected legislation to protect innocent children from sex predators. That's inexcusable. Stacey Abrams is just too extreme for Georgia."
You can watch the ad below.
https://www.youtube.com/watch?v=dhFDeHCYFoE
FACT CHECK
The referenced vote is from the 2007-2008 legislative session, specifically House Bill 908 and Senate Bill 1.
House Bill 908 added 'public libraries' to the locations a sexual offender cannot reside within a certain distance of because of the congregation of children. Stacey Abrams did not vote to allow sexual predators to work 'next to schools and child care facilities' because that was not up for amendment and was already law at the time HB 908 came through the legislature. The bill was an amendment to the current law to include 'public libraries.' You can read it below:
HB 908_2008

Abrams and 28 other lawmakers voted against the bill and it passed through the House but was never taken up by the Senate. See the vote here. Instead, the language of HB 908 was amended into Senate Bill 1 and passed by both chambers and ultimately signed by the Governor Sonny Perdue.
The language in HB 908/SB 1 did not amend Georgia law for restrictions of sex offenders photographing minors as the only change in the law dealt with public libraries. Changes or new language in legislation are indicated by 'underlined' text and only the verbiage on public libraries is underlined in SB 1. The photography code section was unaffected. You can read SB 1 as passed and signed by the Governor below.
SB 1_ 2008

The final vote on SB 1 in the House is here.
The ad 'Drop' is determined to be mostly false.
You can watch the other ads released by the Georgia Republican Party since the July runoff election below. The Party has funded a total of two pro-Kemp television ads and two anti-Abrams ads.
https://www.youtube.com/watch?v=6P8tXf4jWd8