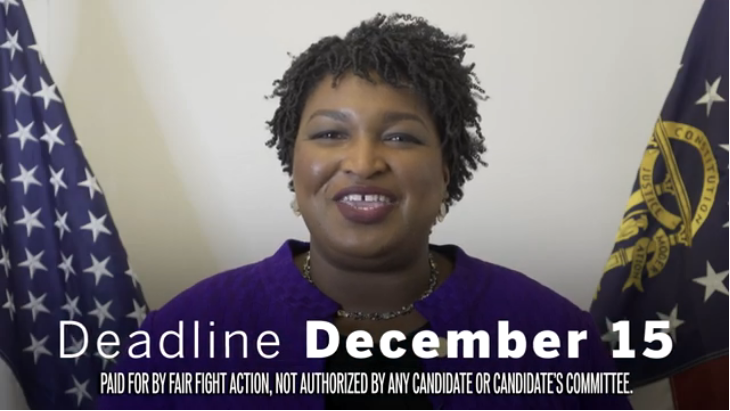 Stacey Abrams and Fair Fight Action Launch Ad Campaign to Encourage Georgians to Sign Up for Health Care
Former Democratic candidate for Governor Stacey Abrams is working with her new political action group, Fair Fight, to encourage Georgians to enroll with health insurance providers by the December 15th ACA Enrollment Deadline.
Televisions ads featuring Abrams are airing across the state, and digital ads linking to healthcare.gov are being served to Georgians online. Notably, in addition to English-language ads, the ad campaign is also targeting Spanish-speaking populations, running captioned ads on Spanish television and Spanish-language digital ads, to ensure that Georgians who are traditionally left out of such outreach efforts are being engaged.
The television ad can be found here.
From  the press release:
"The Affordable Care Act is one of our country's signature modern achievements, expanding access to health care for countless Georgians. While President Trump and Republican leaders have dramatically cut funding for outreach and education efforts around the deadline to enroll for care, those of us who believe in expanded access must use our platforms to engage those communities who need this information the most. I have been a leader in Georgians' fight for affordable, accessible health care for all, and I will continue to advocate for access to care until every Georgian in every family and every community is covered," said Fair Fight Founder and Chair Stacey Abrams.
"Fair Fight Action is committed to engaging with and advocating for Georgians about the issues that most impact their lives, whether it be voting rights or access to affordable health care. Since Republicans – including Governor-elect Brian Kemp – are failing to do their jobs to educate Georgians about their opportunity to get coverage for themselves and their families in 2019, Fair Fight Action is stepping up to do what they won't," said Lauren Groh-Wargo, CEO of Fair Fight Action.
Fair Fight Action's ads featuring Stacey Abrams will run through the end of the day on December 15th, when Open Enrollment closes.