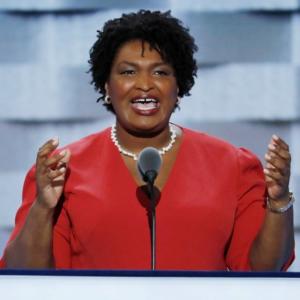 Democratic candidate for Governor Stacey Abrams is telling her campaign supporters and potential voters that she believes Dr. Christine Blasey Ford.
Weighing in on the Kavanaugh nomination Friday, Abrams said in an emaiil:
I believed her last week, I believed her yesterday, and I will continue to believe and to support survivors of sexual assault.
This isn't about politics – it is about doing what is right. It is about removing the stigma of reporting. It's about working to build a system where no survivor is bullied into silence or afraid to seek justice.
Instead of demanding survivors prove and relive their trauma – as Dr. Blasey Ford was forced to do on a national stage yesterday, as survivors are forced to do on college campuses and in workplaces and homes across our country every day – we must demand leaders who will work to build a culture of consent and of accountability.
Until then, we are all guilty of continuing a vicious cycle of assault, silence, and shame. We are guilty of punishing survivors instead of perpetrators.
Survivors deserve better. They deserve to be supported and heard. 
That's why I stand with Dr. Christine Blasey Ford – yesterday, today, and always.
In solidarity,
Stacey Abrams