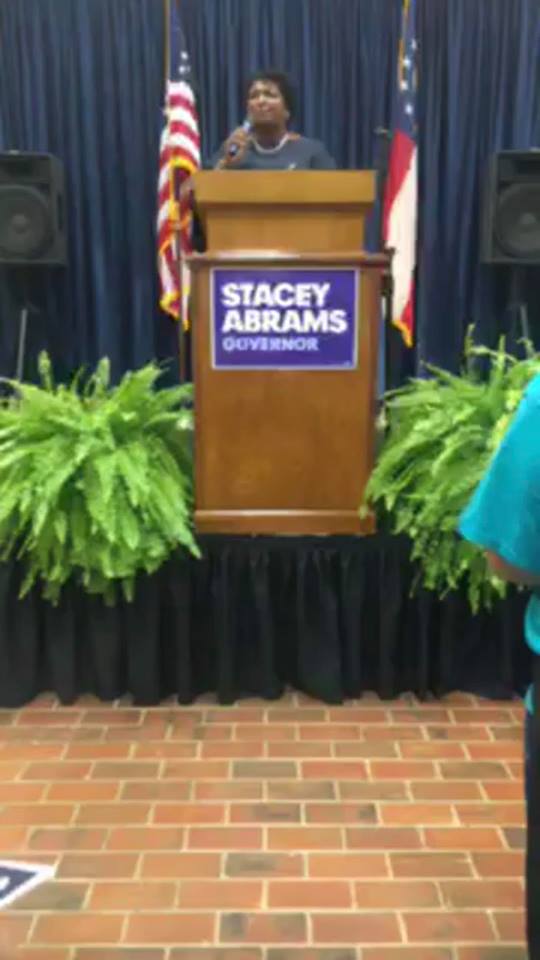 Democratic candidate for Governor of Georgia is taking heat after she told a crowd at Georgia Southern University that people "shouldn't have to go into agriculture" and promised to create " a lot of different jobs."
The statement was made on her "Our Voices. Our Votes. Our Time" tour in which Abrams has been touring the state with other Democratic candidates and leaders ahead of Election Day. It was recorded on video by someone in attendance at the rally that took place Tuesday evening.
You can listen to the clip in which Abrams also discusses hospitality here.
Georgia Southern is located in Statesboro in southeast Georgia's Bulloch County – a farming community surrounded by a number of other predominantly agricultural communities. Georgia has 9.6 million acres of land devoted to farms and more than 42,000 individual farms across the state, each with an average farm size of 228 acres. Agriculture is a $73 billion industry in the Peach State. One in seven Georgians work in agriculture, forestry, or related fields.
The clip is brief, so AllOnGeorgia reached out to the Abrams campaign Wednesday seeking comment and clarification. As of publishing, the Abrams campaign had not responded. 
***UPDATE*** Abrams campaign provided a statement at 7:00 P.M.
From Abrams campagin spokeswoman Abigail Collazo:
"
This is an absurdly misleading attack from someone who has plans to kill Georgia's hospitality industry by signing discriminatory legislation like RFRA and who has personally guaranteed $10 million in loans for a company that defrauded farmers – actions Governor Nathan Deal's administration has said may be a felony under Georgia law. And while Stacey Abrams believes all Georgians — including farmers and hospitality workers — should have access to affordable health care, Brian Kemp has continued to staunchly oppose Medicaid expansion. Abrams is the only candidate with detailed plans to invest in rural Georgia by creating good-paying jobs, expanding access to broadband, and investing in rural educators and students. It is clear that Brian Kemp's go-to tactic has become lying about Stacey Abrams' bold plans and detailed policy proposals in order to cover up the fact that he has none of his own."
The Kemp campaign was quick to respond to the video now circulating . Press Secretary for the Kemp campaign Cody Hall said in a statement published Wednesday:
"While Stacey Abrams was building her national profile on 'Meet the Press,' Brian Kemp was down in Southwest Georgia to assess the damage caused by Hurricane Michael and discuss the storm's effect on our state's agriculture industry.
Days later, Stacey Abrams took a bus out of Atlanta to avoid question about her plan to let illegal immigrants vote and Brian Kemp traveled to Savannah in support of Georgia tourism and our local elected officials.
Brian Kemp understands the incredible impact that agriculture and tourism have on our state. He values the sacrifices made by our farmers to feed their family and ours. Kemp knows that tourism drives local economies throughout our state – creating jobs and economic opportunity for people of all walks of life.
Stacey Abrams brash and condescending comments undermine our most valued industries and disparage hardworking Georgians in every corner of our state. We need a governor who backs Georgia farmers – instead of attacking them during a crisis. We need a governor like Brian Kemp who will stand with those in the hospitality business – instead of telling workers they should find another job."
Here's Stacey Abrams insulting the farmers and hospitality workers of Georgia as if they're inferior. She says these people should instead go into "renewable energy jobs because, I'm going to tell y'all a secret: climate change is real."Forget the last part — why insult agriculture workers and hospitality workers to make your climate change point? We can't all live in Atlanta and we don't all want to either.

Posted by Erick Erickson on Wednesday, October 17, 2018
The complete video of the speech is below.
HAPPENING NOW: Our "We Are Georgia" bus tour Early Vote Rally at Georgia Southern University. https://map.staceyabrams.com/

Posted by Stacey Abrams on Tuesday, October 16, 2018