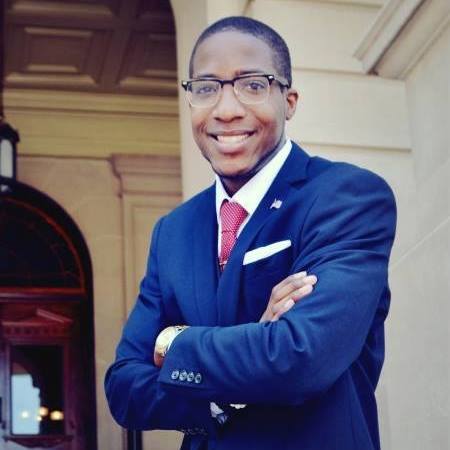 All On Georgia Paulding (AOG Paulding) sent 8 questions to the candidates running for House District 19. This is the first of 5 articles we're posting with the candidate's answers. Nigel Sims (NS) is one of the two candidates that qualified to run on the Democrat ticket. The following are the answers he provided to AOG Paulding, unedited.

My name is Nigel Sims and I am running for State Representative for the 19th district. I grew up in a small town of Donalsonville, GA. I graduated from Seminole County High school and from there I went on to attend Valdosta State University majoring in Public Relations. In 2010, I decided to serve my country in the United States Air force. There, I was the public affairs liaison for Buckley AFB, in Aurora, CO with a focus on journalism. I wrote for the official AF website as well as about five different newspapers. It was there that my love for politics developed. Realizing that so many laws were getting passed that directly affected service members and the public but many people were not aware. During my career in the AF I was awarded the global War on Terrorism medal. After the AF I decided to go back to school, which is where I majored in Political Science w/ emphasis Government and Professional Politics. While in school I interned for the Michelle Nunn campaign in 2014. I have also served as a chairperson over the area of economic Development for the Cobb County NAACP. I am personal banker for Wells Fargo, as well as a business advocate & wells at work advocate. I have been able to use my banking platform to go into the surrounding schools in the community to teach financial literacy to high school students.
AOG Paulding – 1. Why should the voters elect you? What separates you from the other candidates?
NS – It would be taking the easy road to ask citizens to vote for me solely on the basis of my dedication to the district and people of Paulding County, but I prefer the road less traveled. I will devote hard work, time, and effort to serve the people of District 19. To bring a fresh set of ideas to bring resolve to the new and continuing issues facing my fellow Georgians. District 19 is our home and I will fight for it.
AOG Paulding – 2. If elected, what would your top priorities be?
NS – Education
Focusing on the improvement of education, particularly the STEM
Economic Development
Small business expansion, making sure small companies are aware of the opportunities to grow their business by utilizing state and federal funding. Small businesses are the cornerstone of our community, and the tax revenues generated from success will help fund better lives for all.
War on Drugs
We have a serious drug problem in Paulding County and the Federal Government has just approved $5 billion to help solve the Opioid crisis.  Paulding County deserves its share of this money, and I will ensure that the war on drugs is a top priority. We need counseling centers, and we can explore some of the more novel and experimental routes to helping addicts recover their lives.
AOG Paulding – 3. What do you see as the #1 issue facing HD 19 today? If elected, what do you think you can do to address and resolve this issue?
NS – Improving the quality of education in Paulding County Schools is a major concern. Our schools aren't failing, but there are many areas of opportunity we can work to improve on, as well as keeping our kids safe. Let's face it, we live in a society that has a high level of unpredictable violence.  We need to ensure our schools are not "soft targets," that our First Responders have the best training, and that we work to keep guns out of the hands of people too unstable to manage the responsibility. Everyone deserves the right to walk down the street without fear of becoming the next victim of violence.  As your representative, I will push for the funding and legislation to keep our communities safe.
AOG – Paulding 4. As a whole, what do you think of the job the Georgia legislature has done over the last several years? What would you have done differently?
NS – Georgia's failure to expand Medicaid marked an enormous missed opportunity for the state in general and HD 19 in particular. Many HD 19 residents do not have access to employer-sponsored insurance, and these hardworking people are now finding it increasingly expensive to pay for quality health insurance due to our state insurance commissioner allowing insurance premium increases of up to 50%, when he could have forced them to renegotiate any rate increase over 10%. Wellstar Paulding Hospital being one of the many hospitals across the state that accepts Medicaid, failure to expand Medicaid hit them especially hard. No business wants to locate its headquarters in an area where hospitals are far away.
AOG Paulding – 5. Income inequality and wage stagnation are growing issues in our economy today. What do you think as a representative of Paulding you can do to help minimize the impact of these on the people in the district?
NS – People today are working longer hours than ever before, and few of those jobs come with paid overtime. If elected, I will work to expand overtime benefits to more jobs.
AOG Paulding – 6. Over the years we've seen the increase of businesses becoming more involved in politics. What do you think should be done about the influence of businesses and wealth helping set public policy?
NS – We have seen far too often how big business has influenced politics. In order to police this issue it boils down to accountability. Making sure we hold our representatives in office accountable. We also have to make sure that their political agenda is one that is set by the people and not big business.
AOG Paulding – 7. With the recent school shooting in Florida the issue of arming teachers has come up as well as looking for other solutions to help prevent them. Where do you stand on arming teachers? What do you think can be done at the state level to help protect Georgia's students?
NS – In the wake of the Parkland tragedy, the state of Florida recently adopted a comprehensive package of gun control legislation. One of the most important parts of this package was the addition of a so-called "red flag" law, which lets guns and ammunition be temporarily removed from individuals who are acting in a manner threatening to themselves or to others. This law was already invoked to remove 4 guns and hundreds of rounds of ammunition from a delusional man who wanted to shoot his neighbors. If elected, I will work to enact "red flag" laws in Georgia.
Background checks should be expanded to cover all guns, regardless of the place or circumstances of their purchase.
All gun owners should carry personal liability insurance that covers all of their firearms, just as car owners are expected to carry liability coverage on their cars.
It is unfair and unreasonable to ask a teacher to also be a security guard. In Georgia, we do not expect state legislators or court officials to arm themselves to defend against threats: we have metal detectors and trained officers to handle security. To provide dedicated security personnel to elected officials, but not to teachers and schools, is hypocritical.
Teachers themselves are not immune to dangerous use of guns. We recently had 2 cases here in Georgia that illustrate this point: 1) a teacher in Dalton who barricaded himself in his classroom and threatened to shoot the principal if he came in, and 2) a teacher with law enforcement training who accidentally discharged a gun in a classroom. Armed teachers are not the answer to school security.
AOG Paulding – 8. Politically speaking, who is one politician currently or historically that you admire?
NS – A former politician that I admire would be former Senator Sam Nunn.