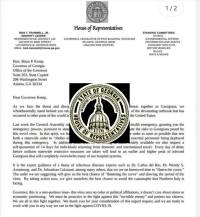 Seven Georgia lawmakers are calling on Governor Brian Kemp to issue an executive order mandating Georgians 'shelter in place' for the next 14 days in response to the COVID-19 pandemic.

The letter, dated March 23, 2020, is signed by House Minority Leader Bob Trammell, House Minority Whip William Boddie, House Minority Chair James Beverly, House Minority Chief Deputy Whip Dar'shun Kendrick, and state representatives Erica Thomas, Kimberly Alexander, and Pat Gardner. All seven are Democrats in the Georgia House of Representatives.
In their letter to Governor Kemp, the group says "we wholeheartedly stand behind you taking immediate action to mitigate the risk of the devastating outbreak that has occurred in other parts of the world and now appears to be ensuing in parts of the United States."
The letter goes on to request that Kemp issue a statewide 'Shelter in Place' executive order for the next fourteen days "with only essential personnel being deployed during this emergency." The letter does not define 'essential personnel.'
Additionally, the lawmakers request that anyone returning from domestic or international
travel self-quarantine for 14 days until COVID-19 testing is more widely available.
"Every day of delay before uniform statewide restrictive measures are taken will lead to an earlier and higher peak of infected Georgians that will completely overwhelm many of our hospital systems," the letter reads.
In closing, the letter states that the issue is not one of political affiliations, color, or economic positioning and asks for proactive action against the 'invisible enemy.'
You can read the letter in its entirety below.