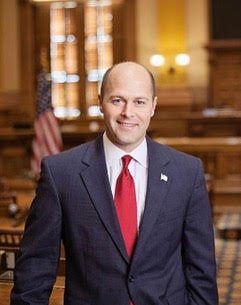 Georgia's most respected pro-Second Amendment organization has come out strong against a candidate in the Republican Primary.
GeorgiaCarry.org is getting involved in the Governor's race.
It's the first time the organization has ever come out in opposition of a Republican Senator, according to their announcement.
GeorgiaCarry.org announced their opposition to Republican Hunter Hill on Tuesday. The organization, which sent out a full explanatory letter to its 8,000 members, detailed instances that led the group to oppose Hill:
In many of Hunter Hill's ads, he is presenting himself as a true Second Amendment supporter.  However, his credentials on the Second Amendment certainly do not support his advertised position.  To wit:
In 2014, after HB875 had passed the House, it was sent to the Senate Judiciary Committee.  Hunter Hill was a member of that committee.  He and two other Senator introduced a substitute that gutted the bill.  In fact, when it came time for the committee to vote on HB875, Senator Josh McKoon stated that this was no longer a Second Amendment bill that he could support and was the only Republican on the committee that voted against the bill.  Hunter Hill voted for that bastardized substitute, which he now uses to back up his support of the Second Amendment.
However, before that committee vote on HB875, Hunter Hill told us that he believed only the police and military should be allowed to openly carry firearms.
This Judiciary Committee move was the reason that HB60 was amended to reflect HB875 and sent back to the Senate for a floor vote.  Again, Senator Hunter Hill was involved with inserting the church carry provision that we are stuck with today.  In his efforts to get this passed, he joined with OUTCRY (George Soros' group of churches against the Second Amendment) and allowed his card to be attached to 4 pages of their literature, shown below asking Senators to "Support the position of a majority of Georgians and vote against HB 875 and HB 60 and any legislation expanding places where guns are allowed in our state."  After the church provision was changed he was seen high fiving other Senators.  After hunting with suppressors was added to the bill, he voted for HB 60.

‪On February 23 of this year, he stated that he felt there should be parity when purchasing a firearm and if the legal age to purchase a pistol is 21, then the legal age of purchasing a semiautomatic rifle should also be 21.  He was called out on that and then stated that he made a mistake, that there should be parity in the ages but the age for purchasing a pistol should be lowered to 18.  Also, a few weeks ago when confronted about the OUTCRY literature, he also said that was a mistake.  Sorry, but true Second Amendment supporters do not make those types of mistakes.‬
‪He is one of very few Republican Senators from Georgia that we at GeorgiaCarry.Org have ever refused to endorse his candidacy and the only one we have ever publicly announced our opposition. ‬