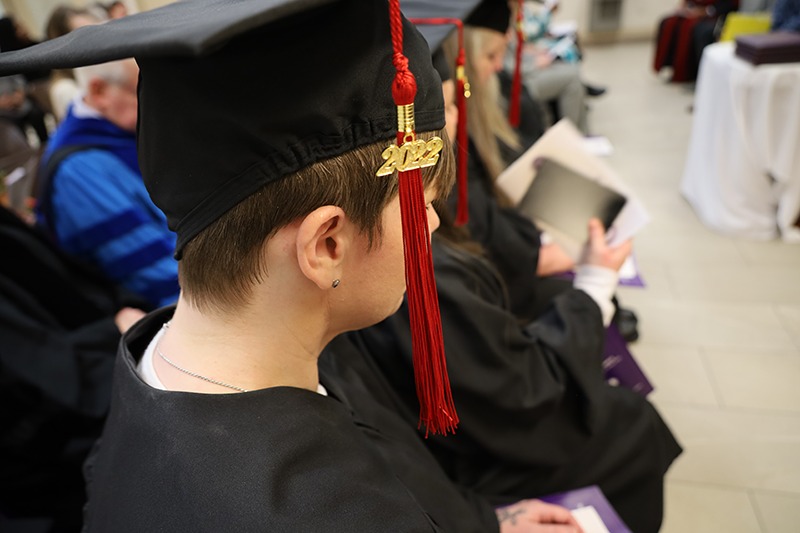 The Georgia Department of Corrections (GDC), in partnership with the New Orleans Baptist Theological Seminary (NOBTS) Leavell College Extension Center and Heartbound Ministries at Whitworth Women's Facility (WF), hosted a commencement ceremony honoring five female offenders on Monday, January 9, 2023. This ceremony celebrated the first female offenders in the GDC to obtain a bachelor's degree in Christian Ministry through the Leavell College NOBTS program.

"This program allows offenders an opportunity to receive valuable knowledge while making a positive change within themselves and the facilities where they are housed," said Commissioner Tyrone Oliver. "We appreciate our partnership with NOBTS and Heartbound Ministries for providing offenders with the tools and skills necessary to become successful upon release."
The NOBTS, Leavell College Extension Center at Whitworth WF began in 2019, offering offenders a four-year, 126-semester hour Bachelor of Arts degree in Christian Ministry. The fully accredited college degrees are designed to provide a broad foundation for ministry within the prison system. They are based upon eight core competencies: Biblical Exposition, Christian Heritage, Servant Leadership, Interpersonal Relationships, Spiritual and Character Formation, Disciple Making, Worship Leadership, and Life Skills.
In addition to earning a degree, the offenders serve as ministers to their peers within the Georgia prison system under the direction of a Chaplain, and ultimately return to their communities as prepared leaders.
For more information on the NOBTS program please visit http://www.nobts.edu/leavellcollege/
---
Georgia Department of Corrections (GDC)