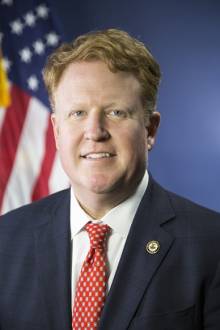 U.S. Attorney Led Call-In Attended by 40 Probationers, Goal to Decrease Recidivism in Georgia

Two-Thirds of Georgia Offenders are Rearrested Within Three Years
The U.S. Attorney's Office in the Middle District of Georgia has completed its third offender call-in, an opportunity designed to help probationers successfully complete their probationary term and not reoffend.
U.S. Attorney for the Middle District of Georgia Charlie Peeler said about two-thirds of Georgia offenders are arrested within three years of completing their state sentence and the goal of the offender call-ins is to decrease the high rate of recidivism in Georgia. The U.S. Attorney's Office is working with the Georgia Department of Community Supervision to track the participants and confirm whether they are reoffending at a higher or lower rate than those who choose not to participate in the federal offender call-ins. Both state and federal probationers have participated in call-ins to date.
Approximately 40 probationers attended the two-part meeting on February 10, 2020 at the Government Center in Albany. During the first section, local and federal law enforcement members and prosecutors discussed the rules that govern probationers, encouraging them to succeed, while also informing them that law enforcement is committed to keeping citizens safe and repeat offenders will not be tolerated. Information regarding federal gun and narcotics laws, and the consequences of breaking those laws, was provided, and probationers were reminded that there is no probation in the federal system. The probationers also heard from a returning citizen who has successfully completed probation and is enjoying a productive life. After the speaking portion, there was a community resource fair with local providers, exposing probationers to services available to them and their families for help with housing, employment, education, substance abuse and mental health counseling, driver's license and medical insurance, among other information. Additional offender call-ins were held in Macon, Georgia on July 29, 2019 and December 10, 2018. A fourth federal offender call-in is being planned in Columbus, Georgia.
"We want every probationer in Georgia to beat the odds and not return to prison after paying their debt to society," said U.S. Attorney Charlie Peeler. "These offender call-ins are designed to equip probationers with services they need to successfully re-integrate into society. Helping probationers succeed is a win for everyone — it's a win for the probationer, their families, friends and neighbors, and society as a whole. Thank you to the probationers who avail themselves of the services they need, and thank you to all of our law enforcement partners, judges and community organizations who have enthusiastically agreed to take part in these call-ins, with an eye to ultimately making our communities safer."
Participating judicial, law enforcement and community organizations to date are as follows:
United States District Court Judge Tillman E. ("Tripp") Self
Bibb County Superior Court Judge Verda M. Colvin
Parental Accountability Court
DEA
U.S. Probation Office
Georgia Department of Community Supervision
Bibb County Sheriff's Office
Dougherty County Sheriff's Office
Dougherty County District Attorney's Office
Macon-Bibb District Attorney's Office
Albany Aspire
Albany Second Change
Albany Technical College
Central Georgia Technical College
Eckerd GED
Goodwill
Insure Georgia
Loaves & Fishes
Middle Georgia Access to Justice
Next Step Recovery Ministries
Rescue Mission
Spirit of Ruth Outreach Ministries
Work Source Georgia
The offender call-ins are a part of Project Safe Neighborhoods (PSN), the centerpiece of the Department of Justice's violent crime reduction efforts. PSN is an evidence-based program proven to be effective at reducing violent crime. Through PSN, a broad spectrum of stakeholders work together to identify the most pressing violent crime problems in the community and develop comprehensive solutions to address them. As part of this strategy, PSN focuses enforcement efforts on the most violent offenders and partners with locally based prevention and reentry programs for lasting reductions in crime.