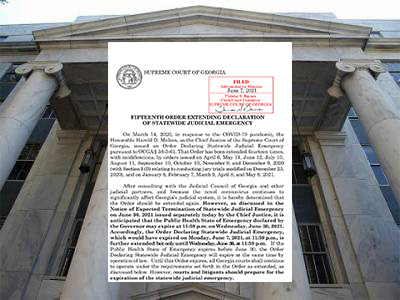 Chief Justice Harold D. Melton announced last Friday, June 4, plans to issue an order Monday, June 7, extending for the fifteenth time the Statewide Judicial Emergency he first declared March 14, 2020 in response to the COVID-19 pandemic.  He said that he expects this order extending the judicial emergency will be the last.
On Monday, June 7, the Chief Justice's Order was  extended to June 30. Because it is anticipated that the Public Health State of Emergency declared by the Governor may expire at the end of June 30, 2021, the Order Declaring Statewide Judicial Emergency is being further extended today but only until Wednesday, June 30, at 11:59 p.m. If the Public Health State of Emergency expires before June 30, the Order Declaring Statewide Judicial Emergency will expire at the same time by operation of law. See the notice and order below.
Notice-of-Expected-Termination_as-issued ga supreme court

15th-SJEO_as-issued ga supreme court

From a press release on June 4:
In a virtual emergency meeting this afternoon with members of the state's Judicial Council – the policy-making body for the judiciary – the Chief Justice told judges from across the state that he does not expect the Statewide Judicial Emergency to extend beyond June 30 at 11:59 p.m. He said that on Monday, June 7, when he issues the last order extending the emergency, he will also issue a formal "Notice of Expected Termination of Statewide Judicial Emergency."
"We've been looking at the trend lines in the Governor's public health emergency orders based on revised CDC guidelines and the decline in COVID-19 rates across the state. Because I am doubtful that the Governor will continue the public health emergency beyond June 30, 2021, I do not expect to issue another order extending beyond June 30 the Statewide Judicial Emergency that has been in place for nearly 15 months already," he said.
"As we have been advising for some time now, courts and litigants across the state need to prepare for how they will operate without a Statewide Judicial Emergency order in place," Chief Justice Melton said. "It will take hard work, creativity, and cooperation to get our courts back tofull operations and to resolve the large backlogs of cases that have accumulated due to the restrictions the pandemic required." As will be discussed further in the Notice of Expected Termination, the chief judges of the 49 superior court judicial circuits have statutory authority to issue local judicial emergency orders to suspend certain legal deadlines and to designate alternative court facilities. Under new legislation enacted during this year's session of the General Assembly, the chief judges of superior and state courts also have authority to grant relief from statutory speedy trial requirements in criminal cases for a limited time following a judicial emergency based on the circumstances in a particular county. And judges have other authorities to issue orders regarding the management and operations of their courts, including on matters like access to courthouses and courtrooms, which proceedings will be conducted remotely and which will be in-person, and public health precautions for in-person proceedings such as wearing masks and social distancing.
"I am very proud of how nimble and committed our courts have been throughout the entire pandemic to ensure the public health of all those who come to our courts, while safeguarding the rights of Georgia's citizens," Chief Justice Melton said. "Our local courts are equipped and ready to carry the load the rest of the way."