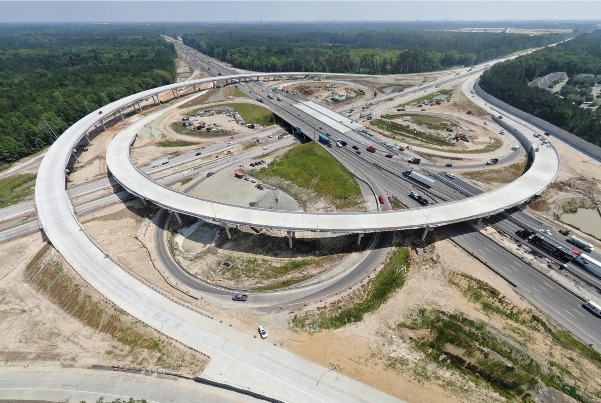 The Georgia Department of Transportation (Georgia DOT) has announced the opening of the second new turbine bridge ramp that comprises part of the 16@95 Improvement Projects. The new turbine bridge ramp, which will carry I-95 southbound traffic to I-16 eastbound, is scheduled to open overnight Friday, June 2. The ramp replaces the existing cloverleaf loop ramp with a "partial turbine" configuration ramp to provide smoother, more direct connections through the heavily traveled interchange.

With the new configuration, motorists will use a common exit located before the I-16/I-95 interchange (Exit 99) using either the outermost "Exit Only" lane, or the right I-95 southbound option lane. The ramp later splits at a decision point to continue onto I-16 westbound (right) or eastbound (left).
"We're excited about the opening of this second turbine bridge ramp, another milestone in the delivery of this overall project," said Ron Nelson, Georgia DOT project manager for the 16@95 Interchange Improvements. "With the first turbine bridge ramp and the I-95 northbound bridge, we've made significant progress toward completing the interchange thus far in 2023. We look forward to the completion of the remaining bridges being built as part of these enhancements, as well as the widening of I-16, to continue this momentum for Chatham County and interstate motorists."
The new "partial-turbine interchange" design is the first of its kind in Georgia. A turbine interchange, also known as a whirlpool interchange, has two or three levels with ramps forming a spiral around the interchange's center. Two of the four existing cloverleafs will be converted into turbine bridges spanning over I-95 and I-16. The traveling public will see improvements to the remaining loop ramps as well with the addition of a new bridge, barrier-separated, collector-distributor (CD) lanes, also known as connecting lanes, and improved lighting throughout the interchange.
The 16@95 Improvement Projects will improve traffic flow and enhance safety along I-16 and I-95, one of Georgia's busiest freight corridors as well as the gateway to Georgia's growing port in Savannah, by reconstructing the interchange at I-16 and I-95 in Chatham County to increase operational efficiency and safety of passenger cars and trucks and widening I-16 to relieve traffic congestion.
Additionally, the projects will provide new lane miles expected to support approximately 100,000 vehicles in metro Savannah, expect to alleviate more than 30 percent of delays on I-16 from I-516 to I-95 by 2030, and will provide enhanced mobility for first responders.