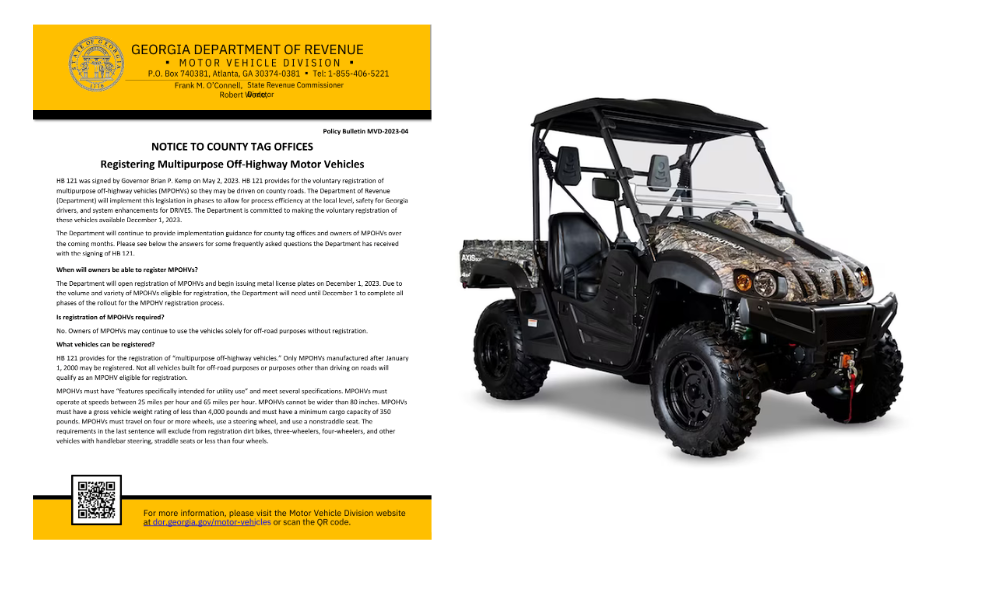 HB 121 was signed by Governor Brian P. Kemp on May 2, 2023. HB 121 provides for the voluntary registration of multipurpose off-highway vehicles (MPOHVs) so they may be driven on county roads. The Department of Revenue will implement this legislation in phases to allow for process efficiency at the local level, safety for Georgia drivers, and system enhancements for DRIVES. The Department is committed to making the voluntary registration of these vehicles available December 1, 2023.

The Department will continue to provide implementation guidance for county tag offices and owners of MPOHVs over the coming months. Please see below the answers for some frequently asked questions the Department has received with the signing of HB 121.
When will owners be able to register MPOHVs?
The Department will open registration of MPOHVs and begin issuing metal license plates on December 1, 2023. Due to the volume and variety of MPOHVs eligible for registration, the Department will need until December 1 to complete all phases of the rollout for the MPOHV registration process.
Is registration of MPOHVs required?
No. Owners of MPOHVs may continue to use the vehicles solely for off-road purposes without registration.
What vehicles can be registered?
HB 121 provides for the registration of "multipurpose off-highway vehicles." Only MPOHVs manufactured after January 1, 2000 may be registered. Not all vehicles built for off-road purposes or purposes other than driving on roads will qualify as an MPOHV eligible for registration.
MPOHVs must have "features specifically intended for utility use" and meet several specifications. MPOHVs must operate at speeds between 25 miles per hour and 65 miles per hour. MPOHVs cannot be wider than 80 inches. MPOHVs must have a gross vehicle weight rating of less than 4,000 pounds and must have a minimum cargo capacity of 350 pounds. MPOHVs must travel on four or more wheels, use a steering wheel, and use a nonstraddle seat. The requirements in the last sentence will exclude from registration dirt bikes, three-wheelers, four-wheelers, and other vehicles with handlebar steering, straddle seats or less than four wheels.
For more information, please visit the Motor Vehicle Division website at
dor.georgia.gov/motor-vehicles or scan the QR code.
What are the state safety requirements for MPOHVs?
HB 121 requires that MPOHVs be equipped with headlights, brake lights, taillights, a rearview mirror, and safety belts.
Please note that these vehicles are not subject to compliance with federal motor vehicle safety regulations for registration.
Will MPOHVs be titled?
No. MPOHVs cannot be titled in Georgia. County tag offices will be able to register and issue license plates for MPOHVs that meet all the law's requirements.
May registered MPOHVs be driven on all roads?
No. Once an MPOHV has been registered and issued either a license plate or a temporary operating permit, a driver with a valid driver's license will be able to operate the registered vehicle on county roads. HB 121 provides that such vehicles "shall be operated only on highways that are part of a county road system and shall be authorized to cross highways that are part of a municipal street system or part of the state highway system." MPOHVs are not permitted to be driven on interstates, state highways, or city streets.
Will motor vehicle insurance be required for MPOHVs?
Yes. HB 121 does not exclude these vehicles from the normal registration requirements for motor vehicles. Motor vehicles driven on the roads of this state must have minimum liability auto insurance coverage.
Policy Bulletin MVD-2023-04 - Registering Multipurpose Off-Highway Motor Vehicles