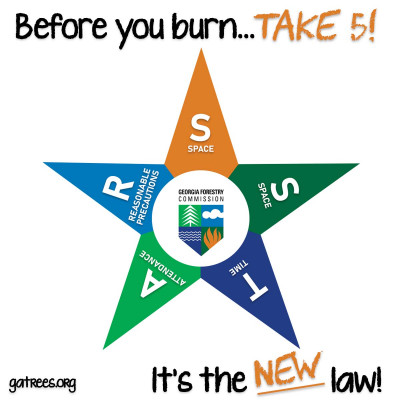 Georgia's annual ban on outdoor burning will end September 30 in 54 counties, primarily in the northern half of the state. From May 1 through the end of September, the Georgia Environmental Protection Division mandates the restrictions to protect air quality from emissions that may increase ground-level ozone.

While burning a pile of crispy fall leaves outdoors is a must for many this time of year, it should never be attempted without following important safety procedures.  By law, burners bear responsibility for their own fires and any damage that may result from their embers. Because escaped debris burning is the number one cause of wildfires in Georgia, the Georgia Forestry Commission reminds individuals they must follow the "Take 5" method of lighting that first match.
"Our first concern is always safety," said Georgia Forestry Commission Chief of Protection Frank Sorrells. "The 'Take 5 Star' is an easy way to remember five specific steps that must be taken when burning yard debris and other hand-piled vegetation outdoors."
The five safety precautions mandated by law are: (S) Spacing distances between fires and woodlands or other flammable vegetation must be 25 feet; (S) Spacing between fire and structures must be 50 feet; (T) Times to burn are from sunrise to sunset (A) Attendance by the burner must be continuous; (R) Reasonable precautions such as weather awareness, a water source, and suppression tools must be taken in advance. Full details including video tutorials in English and Spanish can be found at gatrees.org/burn-permits-and-notifications/.
There also may be local city or county ordinances which must be followed. Separate notification procedures are required of practitioners conducting prescribed and agricultural/land clearing burns.
The 54 counties whose burn bans will be lifted on October 1 are: Banks, Barrow, Bartow, Bibb, Butts, Carroll, Catoosa, Chattooga, Cherokee, Clarke, Clayton, Cobb, Columbia, Coweta, Crawford, Dawson, DeKalb, Douglas, Fayette, Floyd, Forsyth, Fulton, Gordon, Gwinnett, Hall, Haralson, Heard, Henry, Houston, Jackson, Jasper, Jones, Lamar, Lumpkin, Madison, Meriwether, Monroe, Morgan, Newton, Oconee, Paulding, Peach, Pickens, Pike, Polk, Putnam, Richmond, Rockdale, Spalding, Troup, Twiggs, Upson, Walker and Walton.
"The Georgia Forestry Commission recognizes the desire for people to utilize fire for its many benefits," said Sorrells. "It's easier than ever to use technology for weather predictions and to get help if needed. Ultimately everyone is responsible for their own fire. We're looking forward to a beautiful and safe fall season in Georgia."
For specific information about current fire conditions in your area, permitting and safe burning practices, contact your county's GFC office or visit gatrees.org.
---
GFC