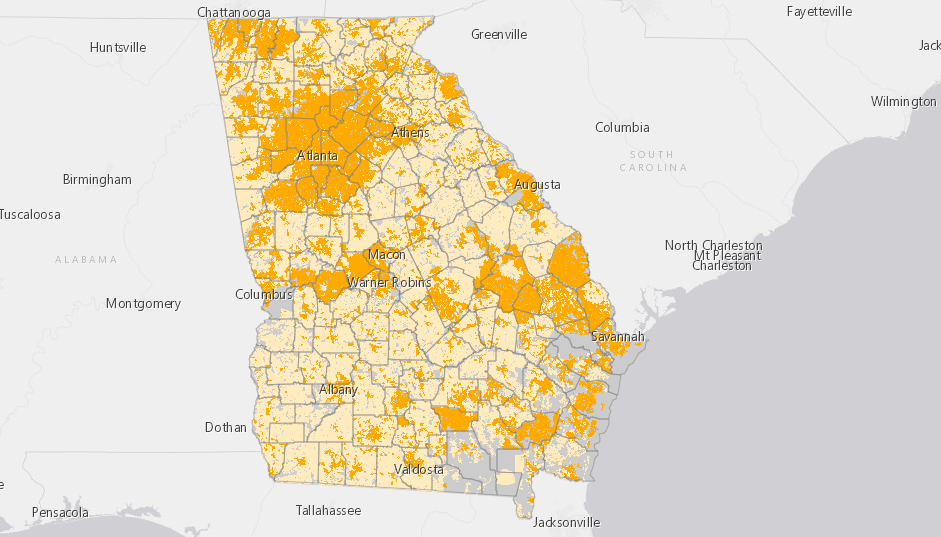 Governor Brian Kemp announced Wednesday the publication of Georgia's Broadband Availability Map, a new tool that will bring more transparency about the internet marketplace and clarify which Georgia households do not have access to high-speed internet.
Currently, more than a million Georgians lack access to reliable high-speed internet service, defined by the Federal Communications Commission as twenty-five megabits per second download and three megabits per second upload (25/3 mpbs).
The Georgia Broadband Availability Map gives a new view of the difference between access to high-speed internet in metropolitan and rural areas. Of the more than 507,000 homes and businesses lacking access to reliable broadband service at speeds of 25/3 mpbs, nearly 70% of these locations are in rural parts of Georgia.
In a news release, Kemp's office said, "Broadband is essential for educating youth, providing telehealth, accessing jobs, and connecting with each other in the 21st century, and COVID-19 has increased the importance of internet connectivity."
"I am proud of the commitment from broadband providers and their collaboration with the state's broadband team," Governor Kemp said in the same news release. "This innovative map will enable the private sector to better see where Georgians lack access to high-speed internet, improve open-market competition, and help providers explore partnerships to address the connectivity needs of our state."
From the news release:
The State's new map is based on location-specific data, which is a more accurate reflection of which Georgia households have high-speed internet available via wireline, such as fiber optic cable. Previously, the only indication of Georgians' ability to access a broadband connection was FCC's map, which aggregates data at the Census Block.
"Not only should the new mapping tool help stimulate private investment, but it also enables us to support local communities and track progress toward serving the unserved," said Department of Community Affairs Commissioner Christopher Nunn.
This new Georgia broadband map is the first to utilize an enhanced location-level methodology to map broadband access with a high degree of precision. This "first in the nation" approach was a collaborative effort between private providers and the Georgia Broadband Office within the Department of Community Affairs (DCA).
Over the past few months, and encouraged by the mapping initiative, providers have announced several infrastructure investments. These investments total nearly $38.2 million and are projected to serve more than 23,000 locations in every corner of the state. Most have occurred through public-private partnership efforts involving federal funds, local commitment, and support from the state's broadband program.
While the new map signifies where high-speed internet service is available, it does not indicate where Georgians are subscribing to internet services. That information is held by the private providers who have service offerings in various areas.
In 2018, the Georgia General Assembly passed the "Achieving Connectivity Everywhere" Act, launching the Georgia Broadband Deployment Initiative (GBDI). GBDI is a multi-agency collaboration, consisting of the Departments of Community Affairs, Economic Development, and Transportation, as well as the Georgia Technology Authority and other state agencies. The initiative calls for the promotion and deployment of broadband services throughout the state to unserved areas with a minimum of 25 Mbps download and 3 Mbps upload speeds, to increase economic, education, and social opportunities for Georgia citizens and businesses.
Click here to explore the county-by-county map.
Click here to explore the Unserved Georgia map.