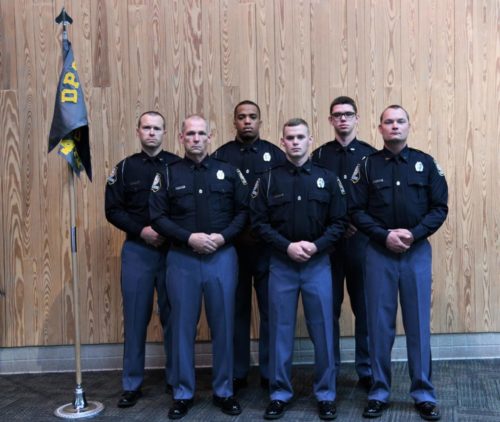 The Motor Carrier Compliance Division graduated its 4th Motor Carrier Officer School on Thursday, Oct. 10, at the Georgia Public Safety Training Center in Forsyth. After 24 weeks of intense training, 7 new MCCD officers will report to inspection stations throughout the state.  Colonel Mark W. McDonough, Commissioner of the Department of Public Safety gave the graduation address and the Oath of Office.  Additional remarks were given by Lt. Kristopher Bowen, MCCD Training Coordinator.

The following graduates were recognized for their leadership:  MCO Jarrett Rivers, President/Sergeant-At-Arms; MCO Ryan Kedzierski, Secretary/Treasurer; MCO Matthew Downer, Pennant Bearer; and MCO Jeffery Martin, Chaplain.
During his remarks, Class President Jarrett Rivers reminded his fellow classmates that alt
Five of the graduates received special honors for top performance in the following areas:
Inspection Proficiency Award – MCO Graham Echols
Driving Proficiency Award – MCO Graham Echols
Firearms Proficiency Award – MCO Graham Echols
Top Gun Award – MCO Jarrett Rivers
Academic Award – MCO Ryan Kedzierski
Additionally, MCO Kedzierski, received a $1,000 scholarship towards a bachelor's degree in Criminal Justice from Reinhardt University.
The new graduates are assigned to one of the 10 regions throughout the state.
| | | |
| --- | --- | --- |
| OFFICER | HOMETOWN | ASSIGNED REGION |
| William Cookson | Hall County, GA | Region 2, Stattion 4 |
| Matthew Downer | Bartow County, GA | Region 1, Station 2 |
| Graham Echols | Wilkes County, GA | Region 4, Station 8 |
| Nicholas Harrison | Colquitt County, GA | Region 8, Station 17 |
| Ryan Kedzierski | Newton County, GA | Region 3, Station 5 |
| Jeffery Martin | Franklin County, GA | Region 2, Station 3 |
| Jarrett Rivers | Fulton County, GA | Region 3, Station 6 |