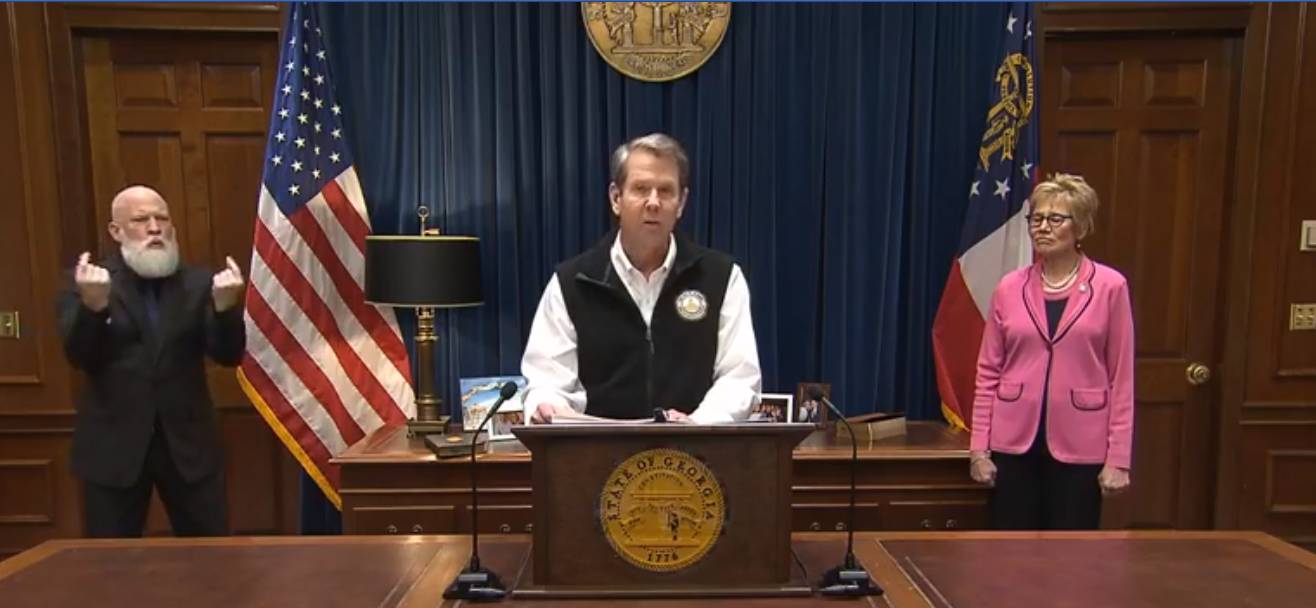 Governor Brian Kemp announced in a press conference Monday afternoon that a number of additional initiatives will be implemented as the state moves to combat COVID-19.

"Over the past few days, the number of COVID-19 cases has dramatically increased. Currently, we have 772 cases in sixty-seven counties. We are starting to see the impact of coronavirus on medically fragile populations in long-term care facilities. State health and emergency management officials are working tirelessly to conduct testing, bolster capacity in our healthcare infrastructure, and prepare as we address the challenge before us."
"The Department of Public Health's state lab has now conducted 1,245 COVID-19 tests, and commercial labs have conducted 3,824 COVID-19 tests. We now have twenty-three test sites for specific populations at the following locations: Cartersville, Rome, Dalton, Woodstock, Gainesville, Marietta, Atlanta, Morrow, Lawrenceville, Stone Mountain, Newnan, Dublin, Warner Robins, Augusta, Columbus, Valdosta, Tifton, Albany, Douglas, Statesboro, Brunswick, Savannah, and Athens. To be tested at one of these locations, you must have a referral from a medical provider. Tests are limited to elderly Georgians, members of the law enforcement community, first responders, long-term care facility residents and staff, and healthcare workers. We must protect those who are protecting us, and that is why we have these new testing sites in strategic locations statewide.
Ahead of the details of the forthcoming executive orders, Kemp highlighted what the state has been working on since COVID-19 was identified in Georgia:
Temporary licensure of out of state doctors and nurses. 

Directed state agencies to implement teleworking policies.
Restricted visitation at certain state-run health facilities, correctional facilities, and juvenile justice centers except in end-of-life circumstance

Called up as many as 2,000 troops to assist in emergency response as needed.

Signed two executive orders: authorizing $20 million in emergency funding for medical supplies and another to reduce regulations, particularly 

Pharmacists can dispose 90-day refills in some instances and early refills, with some limitations

Board of Pharmacy can give certain out of state pharmacists a license to operate 

Activation of strategic national stockpile for national resources for federal resources to state's COVID-19 response;

Distributed 268,200 M-95 masks to 142 hospitals across the state;

30 ventilators delivered Monday to hardest hit hospitals to include Doughtery and Floyd 

Distributed 65,000 face shields, 46,700 surgical gowns, and 630,000 gowns 

GEMA placed an order for respirators, expected to be delivered Friday

Extended Georgia's tax filing deadline through July 1, 2020 – more guidance to come in days ahead.

Through March 31st, elementary, secondary, and post-secondary schools remain closed. 
The biggest challenge currently is health care facility capacity. For example, Kemp cited 64 cases with 6 deaths in Dougherty County with a huge problem of bed space shortages and supply issues. State officials have identified multiple options: 
Emergency management officials will open Phoebe North with 26 rooms for patients.

Albany will have another facility open with 60 beds in the days to come.

The state has identified upwards of 600 additional beds in total and in the works to have available as soon as possible.

Asked federal officials to keep Dobbins ARB open after cruise ship passengers depart. 
"At the Georgia Public Safety Training Center [in Forsyth, Ga], we have completed construction of an isolation zone to hold as many as twenty emergency housing units, and the campus offers as many as 242 dorm rooms to use for patient surge."
Kemp also said he has asked that health officials cancel any upcoming elective surgeries. 
Georgia Department of Defense is working with volunteer workers to assist in emergencies.
The state signed a statewide contract to deploy clinical staff when there is a surge. 
Large increase in SNAP benefit applications
Nearly 12,000 online applications last week, up from 6,400 the week prior – and do not include paper applications. PeachCare applications are on the rise as well. 
$200 million in SNAP benefits is distributed every month and the Department of Agriculture is working to distribute a supplemental benefit for March that will be issued with the April payment because March has been 
"Families are facing hardship," Kemp said. 
Executive Order with DPH to require those "at risk" to quarantine and isolate themselves.
This will include persons in long-term care facilities, with chronic lung disease, those undergoing cancer treatment, those who have a positive COVID-19 test, those who are suspected to have a positive COVID-19 test, and those who have been exposed to someone who has COVID-19. 
The order will also close all bars and nightclubs and ban all gatherings of 10 or more unless there is 6 feet of all persons at all. DPH will be empowered to close any facility not in compliance. The order will take effect at 12 noon on March 24, 2020 and run thru April 6, 2020 at 12pm. 
Kemp also plans on suspending restrictions on those whose medical licenses lapsed in the last five years as well as graduate nurses who have not yet taken their board exams. He also joined 21 Governors to request block grant funding from the federal government. "Many of us are spending heavily at the end of the budget year, facing a significant decline in economic activity."
"This fight is far from over," Kemp said. "Look out for your fellow Georgians."
Watch the full press conference below.