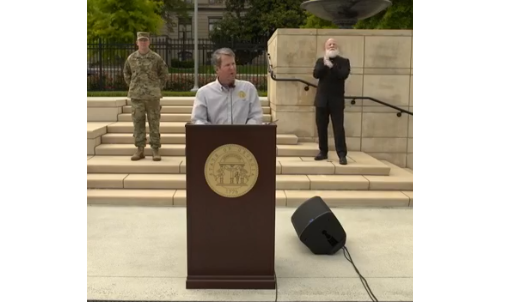 Kemp began Monday's press conference with an overview of the storm damage across Georgia from Sunday night and early Monday morning. "It looked like a bomb went off in two different neighborhoods I visited [in Murray County] and they're already suffering from the impacts of COVID-19," Kemp said. As seven Georgians lost their lives, Kemp said the state of emergency was declared to allocate additional resources for those in need in a number of counties through state agencies.  
As he moved into the COVID-19 update, Kemp announced that as of noon on Monday, April 13th, 13,315 cases were confirmed in the state in 157 of 159 counties with 464 fatalities. More than 56,000 tests have been completed, but Kemp said the testing continues to lag. "The status quo is not acceptable," Kemp said. "Dr. Toomey has instructed public officials at the county levels this morning to expand testing sites around the state." Additionally, the state is going to expand who can be tested.
Symptomatic critical infrastructure employees and asymptomatic individuals who have had direct conduct with positive persons, including family  members will be included in the testing population – expanded from first responders and front line health care workers. Toomey said they may have made it too difficult to get tested at first, requiring referrals from a doctor's office.
"We don't want people showing up unannounced to a hospital or medical facility for a test. You need to contact your local health department to arrange for a test," Kemp said. 
Progress made highlighted by Kemp:
Executed contract to build alternative care facility at World Congress Center

Georgia National guard, GEMA, DPH, and other contracts began preparing the site. 

The facility will be able to be expanded by another 400 beds.

Will partner with Grady nearby

Ready to operate in one week

Peak date for Georgia is set for April 26th according to the models

Secured commitments from hospitals to convert hundreds of rooms to critical care 

Piedmont Hospitals will bring over 100 new beds online, with 64 that are ICU 

Gather with up-to-date capacity with Georgia Hospital Association

2617 emergency room beds in the state, 929 critical care beds, 6,000 general in-patient beds statewide

Hope to provide capacity update daily by the end of the week

Regarding older populations – 80 facilities for long-term care and nursing homes with COVID-19 cases. Working to verify information on additional facilities

Deployed teams to the facilities to sanitize and train staff on other prevention 

229 facilities cleaned by the Georgia National Guard by 19 teams – physicians, nurses and medics.

60 service members working hospital entry at 21 hospitals

Service members are also stationed at 10 food delivery locations. 

Purchased 4 temporary medic units to expand bed capacity around the state:

Rome – April 21st operational start 

Albany – April 28th operational start

Gainesville – May 5th operational start

Macon – May 5 operational start

Partnered with Jackson Healthcare – staffing, search and technology companies to assist with workforce needs. Working through subsidiary to bring 570 health care workers across the state 

Suspending Georgia's Anti-mask statute so people can wear masks without fear of violating a statute 
"In this battle, we have seen businesses, institutions, and Georgians from every corner go above and beyond to lend a hand," Kemp said.  
Kemp thanked Delta for providing free flights for healthcare workers coming to help fight the battle and Home Depot's effort to prioritize shipping of PPE.  
Kemp also thanked the faith community for finding new ways to worship during the most sacred time of year to ensure health and safety of fellow Georgians. "It was a great reminder that even though we must be apart, we can still come together and worship."
When asked when Georgia would be considering 'opening up' and returning to work, Kemp said Georgia isn't there yet. "We're focusing on the hospitals. We're behind the curve for when our peak is going to be, too. We are focused on the surge capacity, ramping up the testing, and making sure we are taking care of Georgians whose lives were ripped apart in the storms last night."