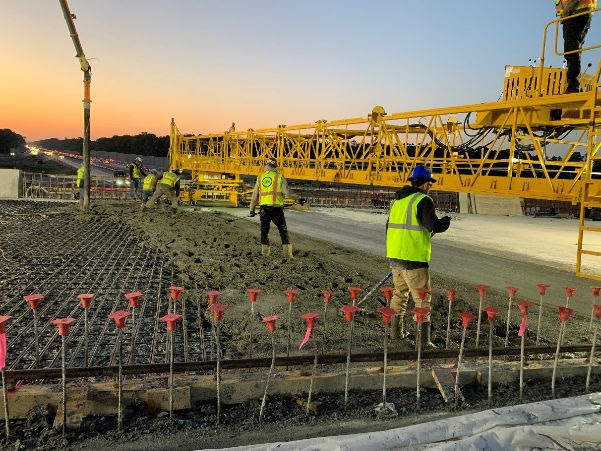 The Georgia Department of Transportation and contractors will shift traffic onto the new I-95 bridge over I-16 in phases in the coming weeks. As progress continues on the 16@95 Improvement Projects, this next significant phase of work was set to begin Friday night, May 19.
The first impactful traffic shift will require I-95 northbound motorists to access I-16 approximately a half-mile sooner at Exit 99. This exit will provide access to both I-16 eastbound (Exit 99A) and I-16 westbound (Exit 99B).
Within one to two weeks, all I-95 northbound lanes will shift to the east side of the new I-95 bridge. In the final phase, approximately one month later, all I-95 southbound traffic through the interchange will  shift onto the west side of the new bridge.
These traffic shifts and new directional signage will be implemented overnight when traffic volumes are typically lowest. While this will not be the final configuration for the interchange, it is a significant progress milestone . Following these shifts, the traveling public will see the demolition and reconstruction of the existing bridges.
This work is another phase in the ongoing 16@95 Improvement Projects which will improve traffic flow and enhance safety along I-16 and I-95, one of Georgia's busiest freight corridors as well as the gateway to Georgia's growing port in Savannah, by reconstructing the I-16/I-95 Interchange and widening I-16 to relieve congestion.
Motorists are advised to drive with caution through the work zone paying special attention to updated signage. While Georgia DOT has made efforts to coordinate with the key navigation apps, driving alert and looking for signage in this short-term configuration is key.