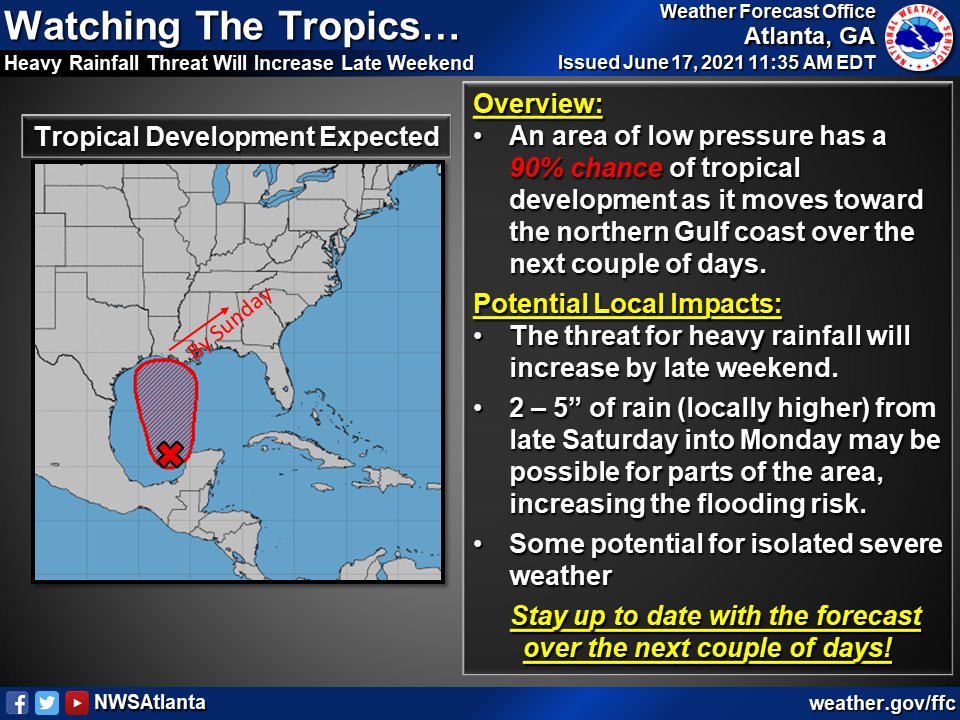 A developing tropical system will move into the northern Gulf of Mexico over the next couple of days.

The threat for heavy rainfall will be on the increase for parts of our area by the latter half of the weekend.
Hydrologic Outlook
National Weather Service Peachtree City GA
444 AM EDT Thu Jun 17 2021
…HEAVY RAINFALL WILL INCREASE THE RISK FOR FLOODING SATURDAY NIGHT
THROUGH TUESDAY…
.SYNOPSIS…
The combination of a Gulf tropical low and a cold front will create
a one-two punch for Georgia beginning late Saturday and continuing
through Tuesday. There remains a good deal of model uncertainty with
the timing and coverage of the heaviest precipitation and changes to
the forecast rainfall totals can be expected with subsequent
forecast packages.
.RAINFALL EXPECTED…
At this time, 3 to 7 inches of rainfall is expected north of a line
from Americus, to Macon, to Washington. The highest amounts of 5 to
7 inches are expected over portions of north and northeast Georgia
where the topography will enhance rainfall activity. The large
majority of this rainfall will occur late Saturday through early
Monday morning as the tropical low impacts the region, followed by
another wave of moderate to heavy rainfall associated with a passing
cold front on Tuesday. Confidence is increasing in this multi-day
widespread heavy rainfall event, but there remains a large amount of
uncertainty regarding the rainfall totals.
.ANTECEDENT CONDITIONS…
In the last two weeks, diurnal shower and thunderstorm activity has
kept near-normal rainfall totals over the majority of the state.
Streamflow remains normal at most river gage locations. Recent
quiet weather conditions have helped soils dry and may allow for
some initial water absorption as the heavier rains develop this
weekend. Persistent heavy rainfall over an area will create runoff
issues quickly, especially across urban areas and north Georgia`s
complex terrain.
.IMPACTS…
Given the tropical nature and high forecast precipitation totals,
there is an increased risk for flash flooding. In addition, Minor
flooding of larger creeks and streams is likely with the current
expected rainfall amounts, especially where any heavier rain bands
set up as the system approaches the area from the southwest.
Quickly accumulating rainfall can also produce widespread flooding
of smaller, fast-responding creeks. Over urban areas, periods of
heavy rain can overwhelm or clog storm drains and ditches with
debris. Take time ahead of the rain to clear leaves and debris
from these drainage systems. At this time, the Chattahoochee,
Tennessee and Coosa River basins have the greatest threat of
widespread riverine flooding.
.ACTIONS…
Stay alert to changing forecasts. A Flash Flood or Flood Watch may
be issued for portions of north and central Georgia in the next 24
to 48 hours if forecast totals remain similar. Know what county you
are in and the names of rivers and creeks in your area. Don`t be
caught off guard. Take action immediately if a Flash Flood Warning
is issued by going to higher ground, especially if you live near or
in a flood prone area or near a creek or small stream.
For additional hydrologic information, visit our website at
weather.gov/atlanta. Click on the Rivers and Lakes tab under current
weather to access the latest river and precipitation information.
$$