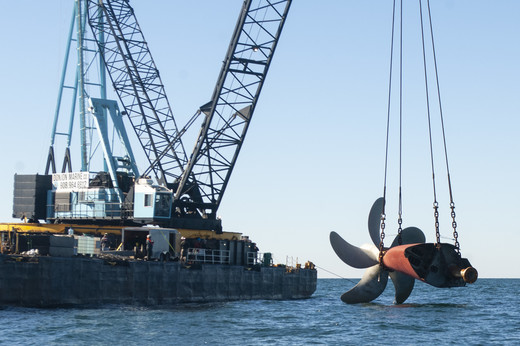 Recreational anglers and SCUBA divers now have a new opportunity for saltwater fishing and diving off Georgia's coast.
Crews on Monday placed a 150-ton section of the capsized vessel M/V Golden Ray inside Reef SFC approximately 20 miles east-southeast of St. Simons Island. The ship's rudder, stern tube section and propeller were placed in about 50 feet of water to provide essential habitat for fish and other marine life.
"With the addition of pieces of the Golden Ray to Reef SFC, anglers will have a better chance to target off-shore fish, and divers will have a chance to see a part of history," said Paul Medders, unit leader for the Artificial Reefs, Habitat Restoration and Public Access section of the Coastal Resources Division of the Georgia Department of Natural Resources. "It's exciting to see part of the Golden Ray become an artificial reef off our coast."
The 100-ton bronze propeller and 50-ton rudder and stern tube were donated to the state by Glovis, an ocean carrier service that owns the Golden Ray. All material was inspected for cleanliness before being placed on the water bottom. The rudder was placed flat on its side and the propeller was deployed upright resting on its drive shaft at a maximum height of 30 feet above the seafloor. These pieces of the Golden Ray join M-60 battle tanks, rubble, reef balls and military landing crafts at Reef SFC.
Outside the barrier islands of coastal Georgia, the continental shelf slopes gradually eastward for over 80 miles before reaching the Gulf Stream and the continental slope. This broad, shallow shelf consists largely of dynamic sand-shell expanses that do not provide the firm foundation needed for the development of reef fish communities, which include popular gamefish such as groupers, snappers, sea bass and amberjack. Offshore substrate largely consists of fine sand and silt, where only about 5 percent of the adjacent shelf features natural reefs or "live bottoms," most of which occur more than 40 miles offshore.
Most of these reefs are located six to 23 nautical miles offshore in 30 to 75 foot water depths, but two experimental "deepwater" artificial reefs have also been initiated in 120 to 170 foot water depths 50 to 70 nautical miles offshore, and three "beach" artificial reefs have been established in 15 to 30 feet water depths two to four nautical miles offshore. Georgia's natural reefs are based on rock outcroppings, not coral, and the biological community that establishes itself on manmade reef materials is very natural.
Georgia's offshore reefs provide habitat for recreationally, commercially and ecologically important finfish and other animals. These reefs enhance and support local and regional fisheries management efforts, increasing the accessibility of great locations to catch fish and SCUBA dive.
Georgia's offshore artificial reef program covers 111 square miles and consists of 20 offshore reefs, eight decommissioned U.S. Department of Defense tactical air crew training system towers and three beach reefs.
The Golden Ray capsized Sept. 8, 2019, in the St. Simons Sound and crews are in the process of removing the vessel. All crewmembers were successfully rescued from the ship following the capsizing. The reef placement was handled by Don Jon Smit, a salvage company that has conducted work on the Golden Ray.
Crews removed the rudder, stern tube and propeller Dec. 20, 2019, to help reduce weight-related stress on the Golden Ray's hull, which is laying on its port side approximately 1,000 feet south of the St. Simons Pier.
The exact location of the Golden Ray propeller, stern tube and rudder in Reef SFC is 30°59.920'N / 81°3.017'W.