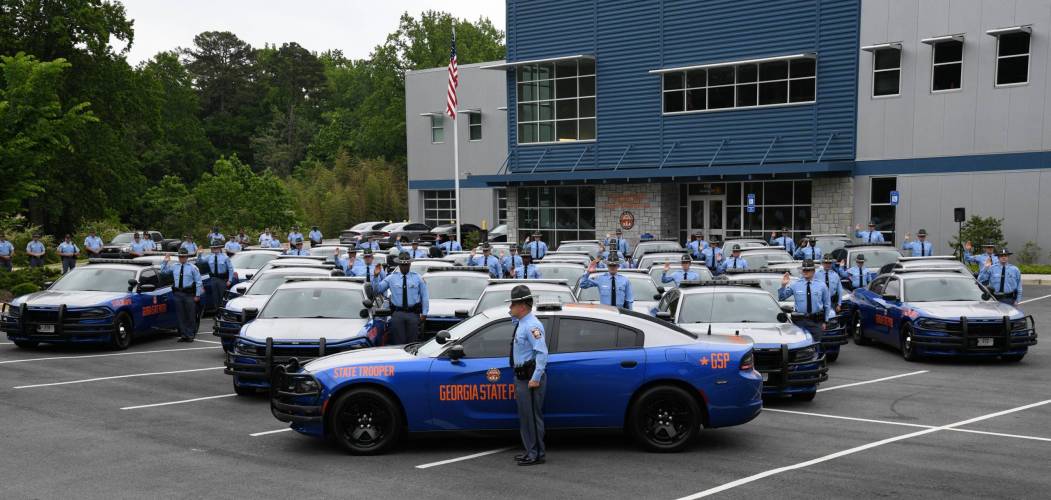 The Georgia State Patrol graduated its 108th Trooper School on Thursday, May 14, at the headquarters of the Georgia Department of Public Safety in Atlanta.  After 32 weeks of intense training, 31 new troopers will report to one of the 52 patrol posts throughout the state.  Instead of the traditional graduation, troopers received their patrol vehicles and were issued the Oath of Office by Governor Brian P. Kemp.
Trooper Cadets spend 20 weeks at the academy and 12 weeks in field training.  The Georgia Peace Officer Standards and Training Council (POST) requires all peace officers receive a minimum of 400 hours of Basic Mandate Training.  At the completion of Trooper School, these newly graduated trooper cadets received over 1,500 hours of training, including driving, defensive tactics, vehicle stops, Spanish, criminal law and criminal procedure, firearms, accident investigation, and various other training.
The following graduates were recognized for their leadership:
Trooper Zachary Pruitt, President; T
Trooper Shawn Tarpley, Vice President;
Trooper Mubin Akhawala, Secretary/Treasurer;
Trooper Matthew Edwards, Chaplain;
Trooper Malcolm Lemons, Sergeant-at-Arms;
Trooper Kenneth Schlegel, Pennant Bearer, and
Trooper Cole Spires; Pennant Base Bearer.
Each commissioned trooper will report to the following assigned post:
| | | |
| --- | --- | --- |
| TROOPER | HOME COUNTY | POST ASSIGNMENT |
| Mubin Akhawala | Hall | Post 6 – Gainesville |
| Stephen Boykin | Lumpkin | Post 37 – Cumming |
| Zachary Bristol | Berrien | Post 36 – Douglas |
| Kevin Coker | Gwinnett | Post 37 – Cumming |
| Stephen Donovan, II | New York, NY | Post 37 – Cumming |
| Sean Dyar | Laurens | Post 20 – Dublin |
| Matthew Edwards | Irwin | Post 30 – Cordele |
| Robert Frese | Fulton | Post 49 – Motor Unit |
| Brandon George | Troup | Post 47 – Forest Park |
| Jameson Glover | Upson | Post 34 – Manchester |
| Marguerite Graham-Beadle | Jackson | Post 6 – Gainesville |
| Felix Guider | Spalding | Post 51 – Gwinnett |
| Ethan Hajnal | Gilmer | Post 37 – Cumming |
| Bryan Hill | Chatham | Post 42 – Rincon |
| William Hunn, II | Fulton | Post 47 – Forest Park |
| Malcom Lemons | Bibb | Post 44 – Forsyth |
| Tomorrea McGlocking | Franklin | Post 6 – Gainesville |
| Michael Mosley | Chattooga | Post 38 – Rome |
| Luke Murray | Pickens | Post 28 – Jasper |
| Eric Olvera | Spalding | Post 51 – Gwinnett |
| David Peterson | Paulding | Post 29 – Paulding |
| Zachary Pruitt | Carroll | Post 4 – Villa Rica |
| Aaron Ramirez | Bulloch | Post 45 – Statesboro |
| Kenneth Schlegel | Dougherty | Post 40 – Albany |
| Preston Schue | Wayne | Post 23 – Brunswick |
| Dylan Scoggins | Floyd | Post 38 – Rome |
| Michael Spires | Dodge | Post 16 – Helena |
| Cole Spires | Laurens | Post 20 – Dublin |
| Taylor Stevenson | Hall | Post 6 – Gainesville |
| Shawn Tapley | Baldwin | Post 33 – Milledgeville |
| Robert Walthour | Walker | Post 41 – LaFayette |