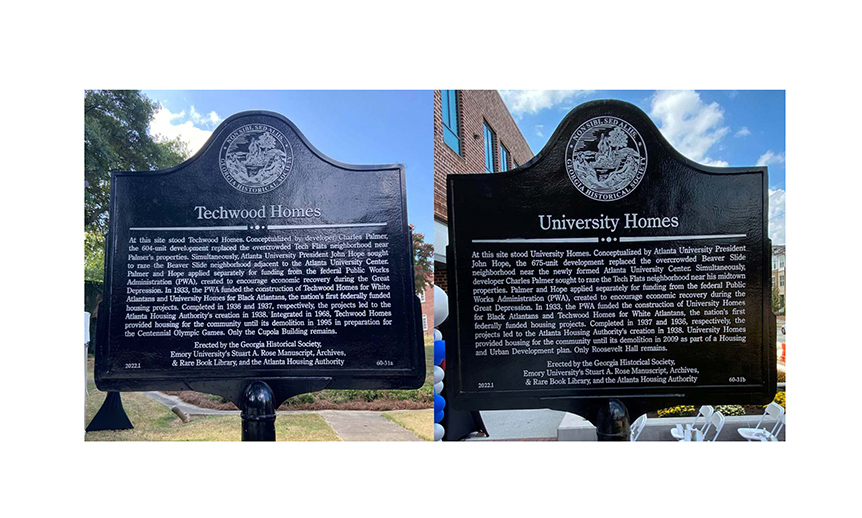 The Georgia Historical Society (GHS), in conjunction with Emory University's Stuart A. Rose Manuscript, Archives, & Rare Book Library, and the Atlanta Housing Authority, recently dedicated two historical markers recognizing the historic Techwood Homes and University Homes, the first federally-funded public housing developments to be completed in the United States.

Under a New Deal program in the early 1930s, the Public Works Administration's (PWA) Housing Division directly funded a project to clear blighted areas and replace them with public housing projects. It was the first of its kind and resulted in the low-income neighborhoods, Techwood Homes and University Homes. Conforming to residential segregation in 1930s Atlanta, Techwood Homes was designated for White families only, and University Homes was intended for Black families. The experimental project influenced the United States Housing Act of 1937 and led to the founding of the Atlanta Housing Authority, now Atlanta Housing, which still operates today.
"As an architectural historian, I'm delighted to have spearheaded the formal commemoration of these two foundational sites in the history of public housing in the United States," said Dr. Christina Crawford, Associate Professor of Modern and Contemporary Architecture in the Art History Department at Emory University. "Marking University Homes and Techwood together, and equally, is one step in an ongoing effort to celebrate the history of generations of Atlantans who built their lives there and to reconcile the projects' segregationist past."
To learn more about the Techwood Homes and University Homes historical markers, please contact Keith Strigaro, Director of Communications at the Georgia Historical Society, at 912-651-2125 ext. 153 or kstrigaro@georgiahistory.com.
---
ABOUT THE GEORGIA HISTORICAL SOCIETY
Georgia Historical Society (GHS) is the premier independent statewide institution responsible for collecting, examining, and teaching Georgia history. GHS houses the oldest and most distinguished collection of materials related exclusively to Georgia history in the nation.
To learn more visit georgiahistory.com.
---