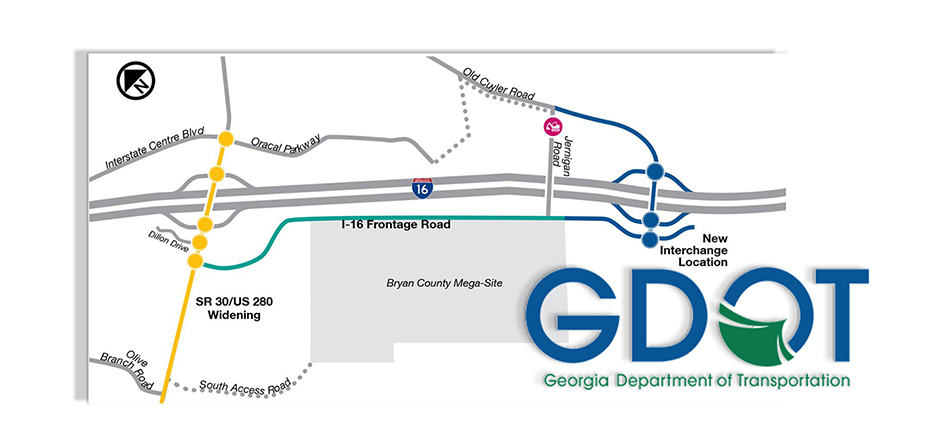 The Georgia Department of Transportation (Georgia DOT) has announced a virtual Industry Forum for the US 280/SR 30 Widening and Interchange Improvement Project (PI 0016618). The project consists of widening US 280/SR 30 from two lanes to four lanes from just south of Olive Branch Road to Oracal Parkway. Additionally, the following roundabouts are proposed at each intersection: two roundabouts at the I-16 ramps, a roundabout at Oracal Parkway, a roundabout at Dillon Drive, and a roundabout at the new I-16 Frontage Road.
This improvement project is part of a series of projects that will provide more efficient access to a new Bryan County Mega-site development and the surrounding area. The Georgia DOT projects, and Bryan County Mega-site development are separate endeavors.
When:
Friday, April 14, 2023
Interested attendees are strongly encouraged to preregister for the Industry Forum. Registered attendees will be emailed an early access link to the presentation on Thursday, April 13, 2023, at 8 a.m. EST.
Within 24 hours (Friday, April 14, 2023), the prerecorded Industry Forum presentation will be posted to the Design-Build web page with the link to the presentation and a list of registered attendees, including contact information.
One-on-one meetings will be held on April 18 and April 19, 2023.
For additional information, refer to the Public Notice Advertisements (PNA) located on the Georgia Procurement Registry (GPR)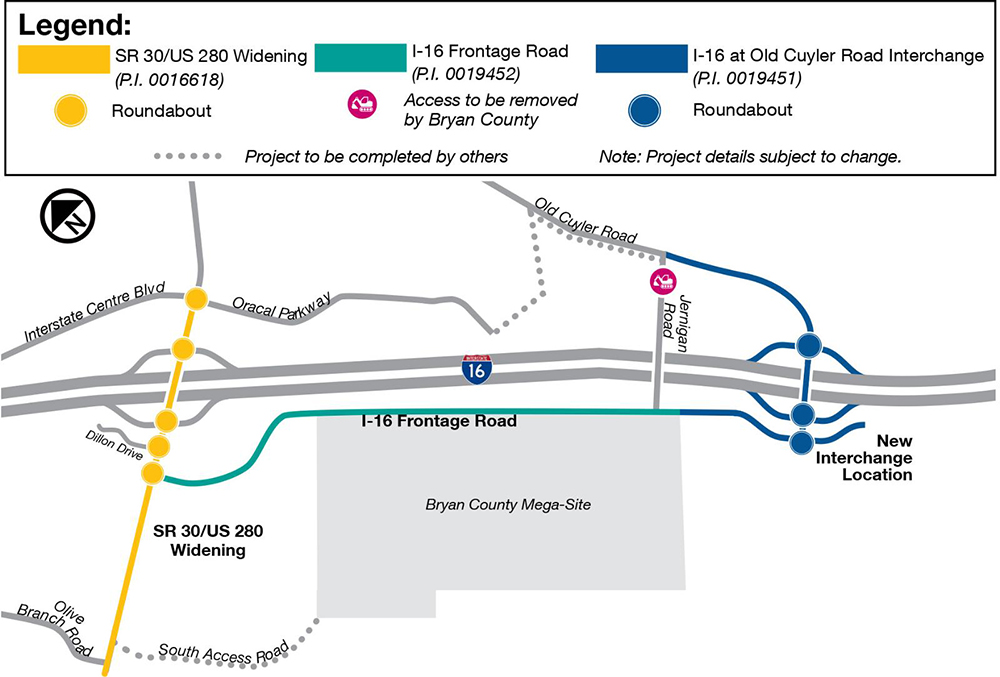 Where:
Online prerecorded presentation will be published on Georgia DOT Design-Build web page. Interested parties can preregister here.
More:
More about Georgia DOT Design-Build projects can be found here: https://www.dot.ga.gov/GDOT/pages/DesignBuild.aspx.