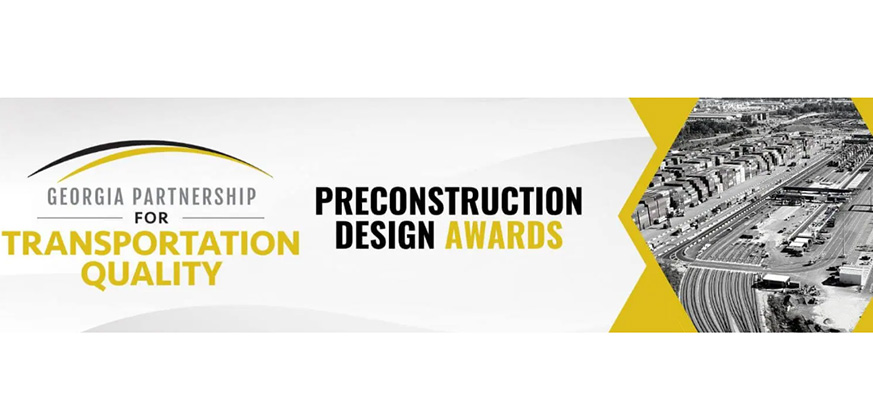 The Georgia Department of Transportation announced Wednesday that 10 department employees were recognized at the Georgia Partnership for Transportation Quality (GPTQ) Awards at the 2022 Georgia Transportation Summit held on November 10 in Athens, Georgia. The GPTQ Awards recognize the projects and people that deliver the exceptional quality in transportation and infrastructure across the state of Georgia.

The Georgia Partnership for Transportation Quality is a longstanding partnership between Georgia DOT, the American Council of Engineering Companies of Georgia (ACEC Georgia) and the Georgia Highway Contractors Association. Its mission is to strengthen the working relationships between the department and the consultants/contractors responsible for designing, building, operating and maintaining Georgia's transportation infrastructure, with the overarching goal of making Georgia's transportation system the best in the nation.
"These awards are representative of what can be accomplished by our team when Georgia DOT works in partnership with transportation consultant and contracting professionals," said Russell R. McMurry, P.E., Commissioner of Georgia DOT. "The department is committed to building and maintaining the best transportation network in the nation and that is only possible through effective collaboration with other transportation experts."
The GPTQ Awards highlight projects that demonstrate transportation planning and design expertise, as well as a commitment to GPTQ Goals. The award categories were chosen because they best embody the on-going evolution and quality in serving the transportation needs of Georgia.
The following is a list of the Georgia DOT employees and the categories in which they were recognized for at the ceremony. The award winners listed below were part of larger teams collaborating with a variety of agencies and consultants.
GPTQ Grand Prize for I-20 Savannah River Bridge Replacement

Butch Welch, senior program delivery engineer, Office of Innovative Design

Subcommittee Award for Land Surveying & Mapping

Lee Howell, assistant office administrator, Office of Design Policy
Benny Walden, retiree

Exceptional Bridge and/or Structural Design for I-20 Savannah River Bridge Replacement

Butch Welch, senior program delivery engineer, Office of Innovative Design

Traffic Safety and/or Intersection Design for the State Route 144 at I-95 Interchange Improvements

Sonja Thompson, project manager, Office of Program Delivery

Rural Highway Design for the State Route 3/US 19 Widening from West County Road to Atwater Road

Jason Mobley, project manager, Office of Utilities
Cherral Dempsey, district program manager, Office of Program Delivery

Design Build for the Statewide Intelligent Transportation Systems Multimedia Messages Service Deployment Phase 1

Kathe Ahmed, P3 project manager, Office of Innovative Delivery
Emily Dwyer, ITS supervisor, Office of Traffic Operations

Right of Way for I-285 at Bouldercrest Road

Obi Ezenekwe, project manager, Office of Program Delivery
Adrienne Wise. State ROW program manager, Office of Right of Way
In addition to Georgia DOT employees, many of the state's transportation organizations, consultants and contractors were also recognized at the awards ceremony for their work including:
Arcadis
Atkins North America
City of Johns Creek
Cobb County DOT
Gresham Smith
Gwinnett County DOT
Heath & Lineback Engineers
HNTB
Kimley-Horn
MARTA
Michael Baker International
Parsons Transportation Group
WSP
To learn more about the GPTQ Awards, please visit the ACEC Georgia website: https://www.acecga.org/