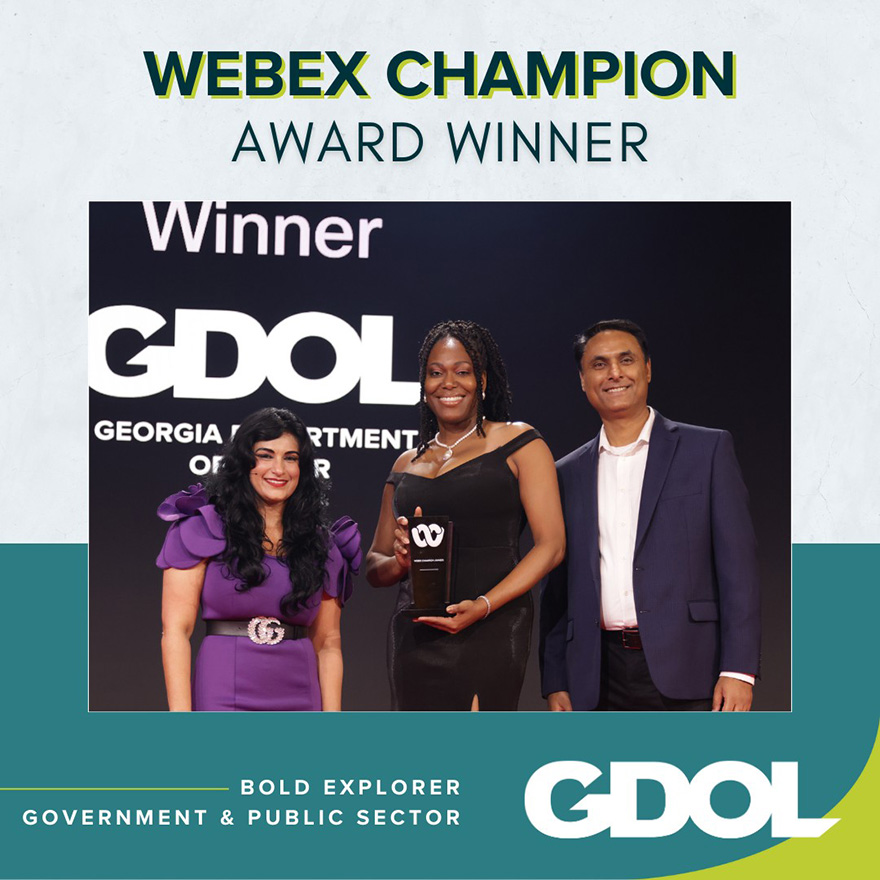 Webex by Cisco, a leading provider of collaboration and customer experience solutions, has named the Georgia Department of Labor (GDOL) as a 2023 Webex Champion Award winner.

GDOL is being recognized for its adoption of an innovative virtual agent powered by artificial intelligence (AI) in the Bold Explorer – Government and Public Sector category at WebexOne 2023, the preeminent destination for experiencing the transformative power of AI and driving the future of hybrid work and customer experience. 
At a recent award ceremony in Anaheim, California, GDOL Chief of Staff Louis DeBroux and Information Technology Manager Phyllis Kimber accepted the award on GDOL's behalf. DeBroux emphasized the significance of the strategic partnership between GDOL and Webex, stating, "The implementation of an advanced virtual agent powered by AI technology has significantly enhanced the customer experience. "With over 1.7 million successful interactions since December 2021, including accurate routing of 97% of requests and a 94% success rate in meeting customers' needs through rerouted calls, this collaboration has played a pivotal role in the Georgia Department of Labor's commitment to efficiency and responsiveness in serving hardworking Georgians."
In 2024, the Georgia Department of Labor (GDOL) will continue to work on strategic enhancements to modernize and improve efficiency through additional improvements to its cloud-based virtual agent – an artificial intelligence (AI) solution that improves responsiveness and customer wait times. Recent system upgrades include enhancements to GDOL's phone system and website chatbot, George AI.
 "Our goal is to become an efficient and responsive agency that leverages technology to the fullest," said Labor Commissioner Bruce Thompson. "That's why solutions like the virtual agent are a positive step in the right direction. We are committed to making GDOL easy to do business with by capitalizing on technology that empowers world-class customer service."
The Webex Champion Awards recognize customers who are excelling at hybrid work, customer experience, leading innovation, and empowering collaboration with Webex. To determine the 2023 winners, a panel of Cisco executives reviewed entries using multiple criteria, including quantifiable metrics, out-of-the-box thinking, and ability to address customer and partner needs.
"Webex's annual Champion Awards recognize the customers who are reimagining hybrid work and customer experience to pioneer change in their organizations," said Aruna Ravichandran, Webex SVP and Chief Marketing & Customer Officer. "Webex is proud to recognize our incredible customers that are driving transformation and innovation in the evolving hybrid work and customer experience landscape."
-Georgia Dept of Labor