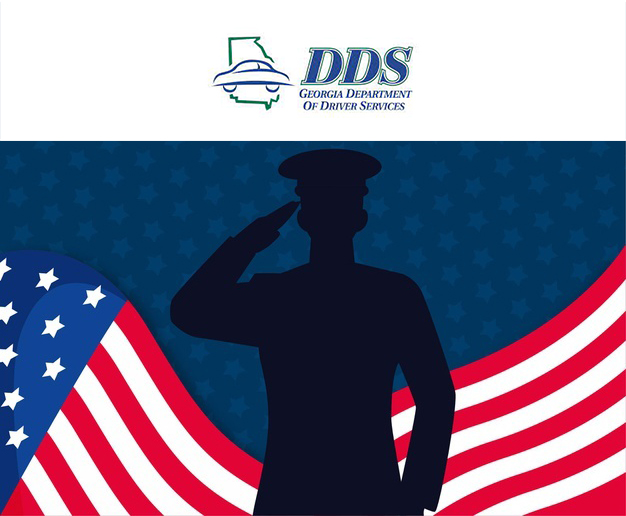 As Veterans Day approaches, the Department of Driver Services (DDS) reminds Georgia veterans and active military personnel of special licensing and testing services dedicated to them year-round. 
"For the men and women who have served the United States through military service, DDS welcomes the opportunity to honor you," said DDS Commissioner Spencer R. Moore. "Please review the special military licensing options available, because it is our way of saying thank you."
DDS supports veterans and our active military several ways including:
Offering free licenses and IDs for veterans (upon presentation of eligibility from the Georgia Department of Veteran Services).
Providing specially designed patriotic driver's licenses and ID cards for veterans (standard fees apply).
Offering free licenses and IDs for active National Guardsmen upon presentation of eligibility from their command.
Honorary Licenses/IDs for the spouse of a decreased veteran or the spouse of a disabled veteran who does not drive
Troops to Trucks Program – accelerates the licensing process for military personnel to obtain a commercial driver's license (CDL).
Special testing exemptions for troops and their dependents who have an approved military motorcycle safety program.
Special testing exemptions for troops who have held a commercial vehicle license during service.
Accepts certificates for military supervised Risk-Reduction Programs.
Courtesy renewals by mail for active troops and their dependents stationed out of state.
Fort Benning, GA is home to the first DDS customer service center located on a military installation; provides convenient licensing services to the approximately 120,000 military, reservists, retirees and civilian personnel who support the Base daily.
"We are proud of the  many veterans who are part of the DDS Team in many roles throughout the state. I thank them for their willingness to continue to serve in this capacity," added Commissioner Moore.
Please visit dds.georgia.gov for complete driver education, testing and licensing information including the opportunity to submit your paperwork before arriving to save time.