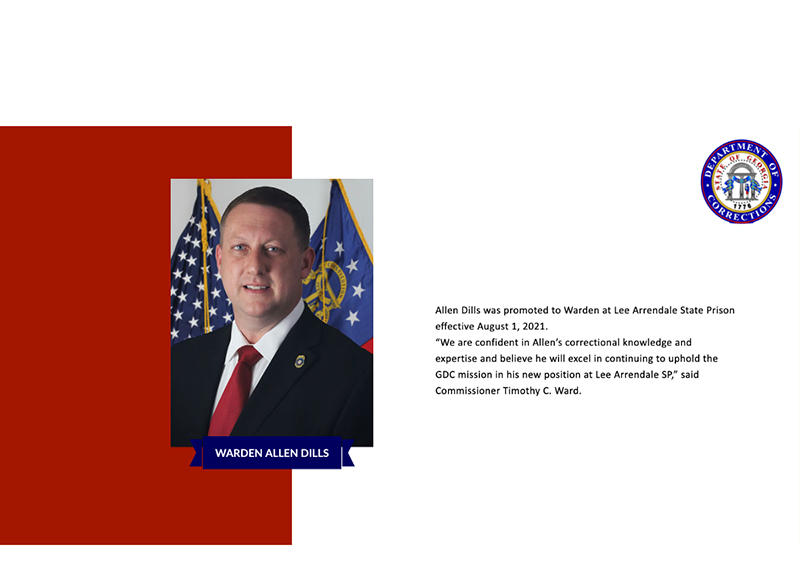 The Georgia Department of Corrections (GDC) Commissioner Timothy C. Ward announced the promotion of Allen Dills to Warden at Lee Arrendale State Prison (SP), effective August 1, 2021, following the retirement of his predecessor, Murray Tatum. As Warden, Dills will be responsible for overseeing approximately 350 staff members and 1,200 special-mission female offenders at the facility.
"Dills has demonstrated exceptional leadership qualities throughout his tenure with the GDC," said Commissioner Timothy C. Ward. "We are confident in his correctional knowledge and expertise and believe he will excel in continuing to uphold the GDC mission in his new position at Lee Arrendale SP."
Dills began his career with the department in 2002 as an Accountant Paraprofessional at Lee Arrendale SP.  He was promoted to Personnel Manager at Lee Arrendale SP in 2009 and in 2012, was promoted to Deputy Warden of Administration at Phillips SP.  Upon the opening of the North Regional Office in 2015, Dills was promoted to Regional Business Manager for the North Region.  In 2018, Dills was promoted to Superintendent at Lee Arrendale Transitional Center and then to Warden at Lee State Prison, where he currently serves.
Dills attended Gainesville State College and North Georgia University.  His departmental training consists of Basic Correctional Officer Training, Basic Management Training, Advanced Management Training, the Professional Management Program, and Warden's Pre-Command.
---
GDC