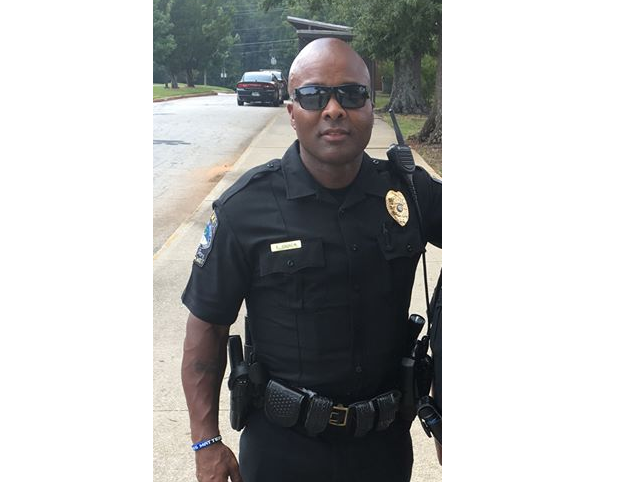 A police officer from Georgia was among those recognized by the U.S. Department of Justice as part of the Third Annual Attorney General's Award for Distinguished Service in Policing on Tuesday.
The awards were established through Executive Orders – three of which issued directives to the DOJ to "demonstrate his strong support of the law enforcement community." The awards serve as a recognition of the partnership to "restore the rule of law, reduce violent crime, dismantle criminal gangs, and combat the growing drug epidemic," according to the U.S. Attorney's office. The awarded officers and deputies have demonstrated active engagement with the community in one of three areas: criminal investigations, field operations or innovations in community policing.
The Department received 199 nominations for 414 individuals ranging from state police departments, to local police, to campus public safety agencies.
Officer Troy Quick of the Conyers Police Department was one of five law enforcement officers honored in the 'Innovations in Community Policing' category.
From the news release from the DOJ:
Officer Quick is making a lasting impact on the youth within his community. As a School Resource Officer at Rockdale County High School, Officer Quick has been able to help a number of students leave gang life. Whether it is though the mentoring sessions he coordinates for students, donating items to families in need, or just taking an interest in student's daily lives, Officer Quick is a true example of dedication and service.
"Honoring and supporting the work of law enforcement officers and deputies is a top priority for the Trump Administration, and today is an opportunity for me to personally express my gratitude and commitment to those who risk their lives daily to protect our communities," said Attorney General Barr. "The Attorney General's Award for Distinguished Service in Policing honors exceptional police officers and the vital public service they provide. The brave men and women in law enforcement are engaged in an unrelenting and often unacknowledged fight to keep our communities safe each and every day. It is an honor to thank them for their service."
A total of 19 law enforcement officers and deputies from 12 jurisdictions across the country. Quick was the sole winner from Georgia.
Conyers Police Department was awarded the U.S. Department of Justice Community Oriented Policing (COPS) grant in 2015. This $125,000 grant funded one additional full-time school resource officer for three years to be assigned to the Rockdale County Public Schools.
"Officer Quick has been very active in sports programs at the high school, encouraging physical fitness, team building, and other positive interactions rather than merely portraying a law enforcement officer in the school. It is almost as common to see him out of uniform as in his uniform interacting with the students therefore making him more approachable to some people. The female SRO has participated in the RARE Pearls mentoring program. RARE Pearls are high school girls who are at risk of not living up to their full potential because of various challenges," the Police Department said in a report to the U.S. Department of Justice.
You can see the list of other award winners here.
2018 winners are available here.