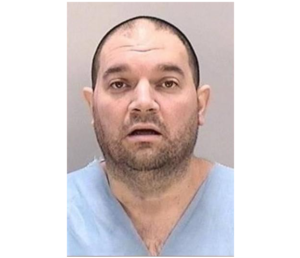 A Georgia man has been sentenced to 140 years in prison for the arson of his former place of employment.
37-year-old Roland Croyle was found 'guilty but mentally ill' by a jury of his peers last week on 24 counts of arson, aggravated assault, and criminal damage to property stemming from a 2017 fire that claimed a building where Croyle used to work. He had previously pleaded not guilty.
Prosecutors say Croyle crashed his vehicle into the Twin Peaks restaurant before he threw buckets of fuel, propane tanks, and fuel-soaked blankets inside and torched it. Croyle worked at Twin Peaks until he was fired for drinking on the job. Former coworkers say Croyle had threatened to return and blow the restaurant up.
"When he was doing it, throwing propane tanks in there and everything, he looked nonchalant," Bartender Tyler DiLorenzo told WRDW when the trial date was set earlier this year.
Kelly Williamson, Croyle's defense attorney, says her client was depressed and wanted to end his life, but Judge J. Wade Padgett was not having it. He sentenced Croyle to 140 years in prison with another 20 years to be served on probation, calling the acts "cowardly" and "selfish." Croyle has also been ordered to pay $5,000 in restitution, the insurance deductible the restaurant owner had to pay out of pocket, and to avoid contact of any kind with any victim of the fire.
According to the Augusta Chronicle, Padgett said Croyle "traumatized not only those inside the restaurant but also his own mother, children and ex-mother-in-law, who he had contact with that day. Croyle didn't want to simply commit suicide, the judge said, he also wanted to grab attention that day, which was his ex-wife's birthday."
The prison system will be responsible for carrying out any mental health programs ordered by the court.