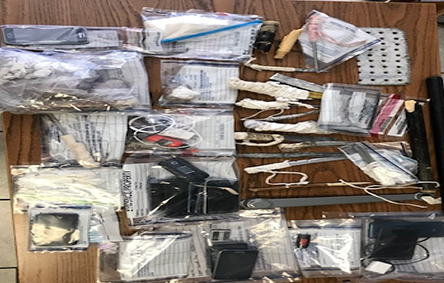 As part of ongoing efforts to prevent contraband from entering our facilities, the Georgia Department of Corrections (GDC) seized a total of 11,115 contraband items during the second quarter of 2019. The agency continuously makes improvements to our processes in addition to utilizing full-facility shakedowns to combat contraband entering our facilities.

"The GDC continues to combat contraband through the enhanced efforts of our security staff, while ensuring our facilities are safe and secure," said Timothy C. Ward, Commissioner of the GDC. "We will continue to be steadfast in our on-going mission to find and remove theses items."
Through the collaboration of our Office of Professional Standards, GDC Tactical Squads and K9 Units, the following items were confiscated between April and May 2019:
1,469 cell phones
558 cell phone chargers
2,830 handmade weapons
9,487.19 grams of marijuana (277 bags/balloons)
58,498.14 grams of tobacco (1,665 bags/balloons)
2,695.24 grams of methamphetamine (127 bags/balloons)
3,158.80 ounces of alcohol (23 bottles)
555 pills
3,586 syringes
25 SIM/SD cards
The GDC also utilized shakedown operations to detect 1,639 items in the second quarter of 2019. A total of 22 shakedowns were completed at nine of the 34 state prisons.
Second quarter shakedown seizures included:
110 cell phones
881 handmade weapons
753.25 grams of marijuana (12 occurrences)
571.05 grams of tobacco (7 occurrences)
627.65 grams of methamphetamine (10 occurrences)
43.8 gallons of homemade alcohol (3 occurrences)
131 unidentified pills
This is a press release from the Georgia Department of Corrections.