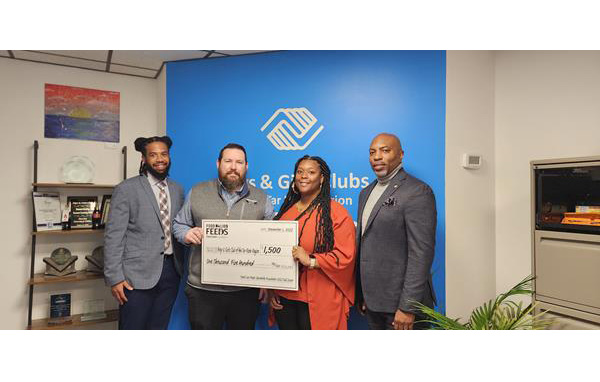 The Food Lion Feeds Charitable Foundation has distributed more than $785,000 in grants to more than 220 nonprofit organizations across Food Lion's 10-state footprint. The grants support the local organizations' efforts to nourish neighbors experiencing hunger and provide nutritional education to their communities. As part of the total distribution, Food Lion Feeds Charitable Foundation donated $165,000 to Feeding America® to support child hunger programs. In addition, the group awarded $50,000 matched by Food Lion Feeds, the omnichannel retailer's hunger-relief platform, as part of a 10-year capital campaign to support Loaves and Fishes, a nonprofit agency serving Charlotte, NC. Twelve organizations in Georgia were awarded grants. The full list of organizations can be seen below.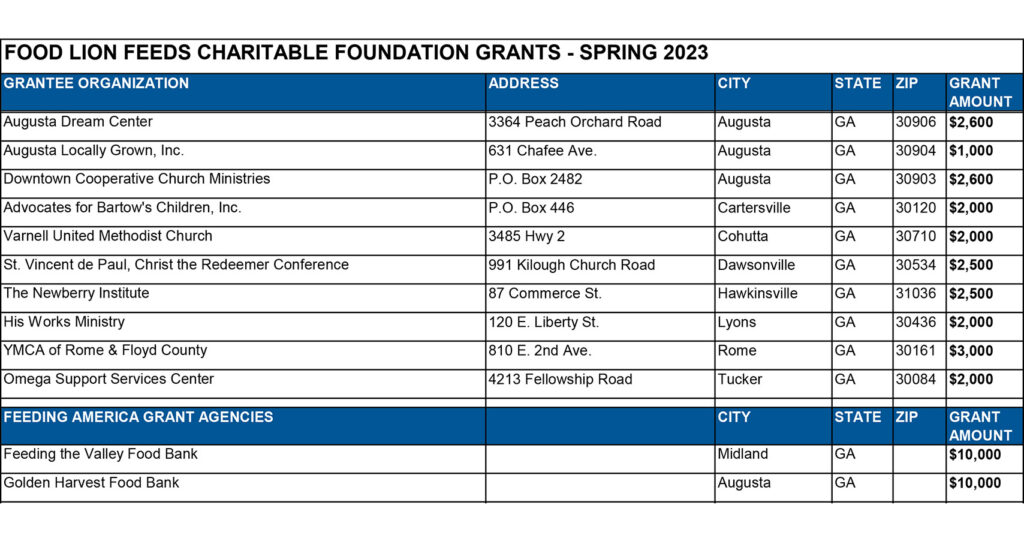 "As part of our commitment to the towns and cities we serve, Food Lion takes pride in being active in the community," said Adam Bass, Vice President of Pricing, Food Lion, and President, Food Lion Feeds Charitable Foundation. "In addition to providing access to meals and meeting the increased demand for food, Food Lion Feeds also invests in innovative programs to address the underlying causes of food insecurity through grants provided by the Food Lion Feeds Charitable Foundation. We are pleased to support our food bank partners and assist those experiencing hunger in our communities."
In addition to providing immediate solutions to make nutritious food more accessible, the grants also support community feeding agencies in creating sustainable and transformative solutions to end hunger. One example includes community gardens that provide space for neighbors to grow fresh, healthy food close to home. Other grants support mobile food pantries that allow neighbors to access food regardless of transportation challenges and cooking classes for neighbors to learn new recipes that are healthy and easy to make at home.
The Food Lion Feeds Charitable Foundation is a 501(c)(3) organization operated by a volunteer board of directors comprised of Food Lion associates from different areas of the company. The Foundation focuses on fighting child hunger, helping partner organizations increase their "fresh" capacity so families can put nutritious meals on their tables, and providing nutrition education to support the health and wellness of Food Lion's neighbors.
food lion feeds grants june2023

Since its inception in 2001, the Foundation has donated more than $17.8 million across Food Lion's 10-state operating area. It has made significant contributions to Food Lion Feeds, which has provided more than 1 billion meals to individuals and families since 2014. This has been achieved through a combination of product, financial and equipment donations; disaster relief and recovery efforts; volunteer hours by associates; in-store retail campaigns; and the company's pioneering food rescue program.
The Food Lion Feeds Charitable Foundation holds two grant cycles each year. The grant application deadline for the fall cycle is Sept. 14, 2023, and can be found online. Nonprofit organizations are eligible for grants if affiliated with Feeding America or the United Way. Organizations are eligible to apply for grants every 12 months.
For more information on Food Lion Feeds' commitment to fight hunger, visit foodlion.com/feeds.
---
Food Lion