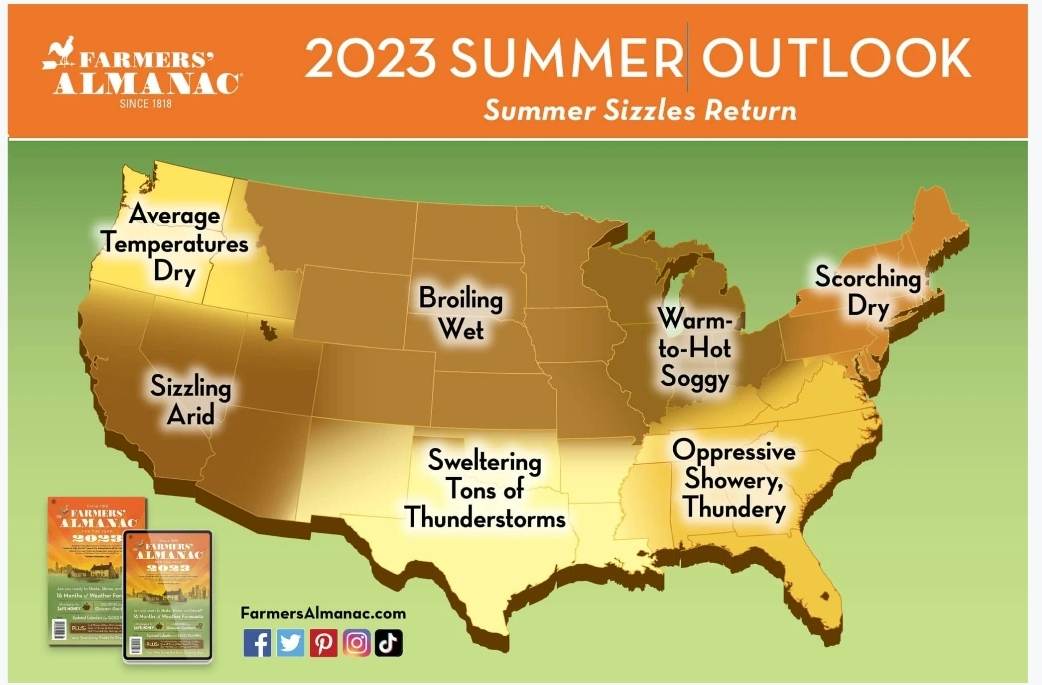 Each year, the Farmers' Almanac shares their predictions about what we should expect for summer weather. For the summer of 2023, they've predicted sizzling heat and thunderstorms. So far, they are right on the mark with rain and thunderstorms.

The meteorological "summer" began on June 1, and just as the Farmers' Almanac forecast, this month has been stormy. They also said it will then turn quite warm nationwide by the end of the month.
The official first day of summer arrived with the solstice this morning, Wednesday, June 21, at 10:58 a.m. The summer solstice/June solstice marks the official beginning of summer in the Northern Hemisphere, occurring when Earth arrives at the point in its orbit where the North Pole is at its maximum tilt (about 23.5 degrees) toward the Sun, resulting in the longest day and shortest night of the calendar year. On the day of the June solstice, the Northern Hemisphere receives sunlight at the most direct angle of the year.
Showers and thunder will welcome the summer solstice in the Southeast.
According to predictions, the heat will seem unrelenting for some areas, persisting from late June through early September. Temperatures will, at times, soar into the 90s, perhaps even topping 100°F. Due to the hot and humid conditions, predictions for the Southeast and South Central regions show an above average number of thunderstorms.
Through the end of the month for the Southeast:
20th – 23rd

Showery rains from GA through the Carolinas, followed by clearing skies. Squally weather along the Gulf Coast.

24th – 27th

Scattered thunderstorms.

28th – 30th

Fair, hot, oppressively humid.
Southeast predictions throughout the month of July:
1st – 3rd

Oppressive heat, humidity.

4th – 7th

Thunderstorms for Carolinas, points south to Gulf Coast, then clearing.

8th – 11th

Showery rain Gulf Coast, much of Southeast, then clearing.

12th – 15th

Hot, humid.

16th – 19th

Scattered showers, thunderstorms; heavy-to-severe thunderstorms VA.
---
See more on farmersalmanac.com