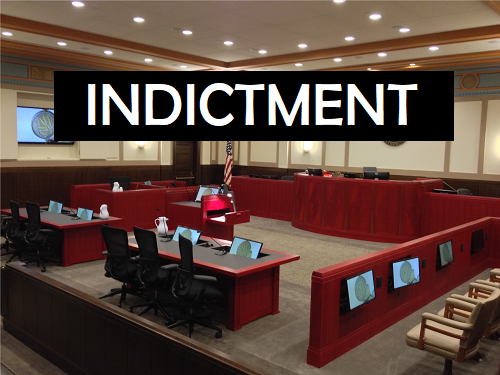 Russell Richardson, the former Director of Security for DeKalb Medical Center, has been charged with stealing firearms meant for security personnel and then illegally selling those guns for profit.
"Richardson's alleged sale of illegally attained weapons is troubling," said U.S. Attorney Byung J. "BJay" Pak. "He abused his position of authority to enrich himself, and now faces justice."
"Among ATF's top priorities is ensuring that firearms traffickers are aggressively investigated and swiftly brought to justice. This is an excellent example of such an investigation," said Assistant Special Agent in Charge Beau Kolodka, ATF Atlanta Field Division.
According to U.S. Attorney Pak, the indictment, and other information presented in court: Between 2016 and June of 2018, while employed as the Director of Security for DeKalb Medical Center, Inc. ("DeKalb Medical Center"), Richardson used his position to fraudulently order numerous firearms from a local federal firearms licensee and then caused the resulting invoices to be submitted to the hospital for payment.  DeKalb Medical Center paid the invoices, but never received the firearms.  In all, Richardson diverted approximately 93 firearms to his own use, including selling them for profit.
Richardson also misused a hospital issued purchase card for personal gain.  Even though the purchase card was solely for gas purchases and maintenance of hospital vehicles, Richardson allegedly charged approximately $45,000 for repairs and services performed on his personal vehicles using a mechanic shop located in South Carolina. The mechanic shop subsequently issued refunds directly to Richardson totaling approximately $20,000.  Instead of returning the funds to the hospital, Richardson allegedly kept the money.
Russell Richardson, 43, of Dallas, North Carolina, has been indicted on 15 counts of mail fraud, one count of dealing firearms without a license, and three counts of unlawfully selling firearms to out of state residents.  Members of the public are reminded that the indictment only contains charges.  The defendant is presumed innocent of the charges and it will be the government's burden to prove the defendant's guilt beyond a reasonable doubt at trial.
This case is being investigated by the Bureau of Alcohol, Tobacco, Firearms and Explosives with assistance from DeKalb Medical Center, now doing business as Emory Decatur Hospital.
Assistant U.S. Attorney Tracia King is prosecuting the case.
Information from the DOJ.