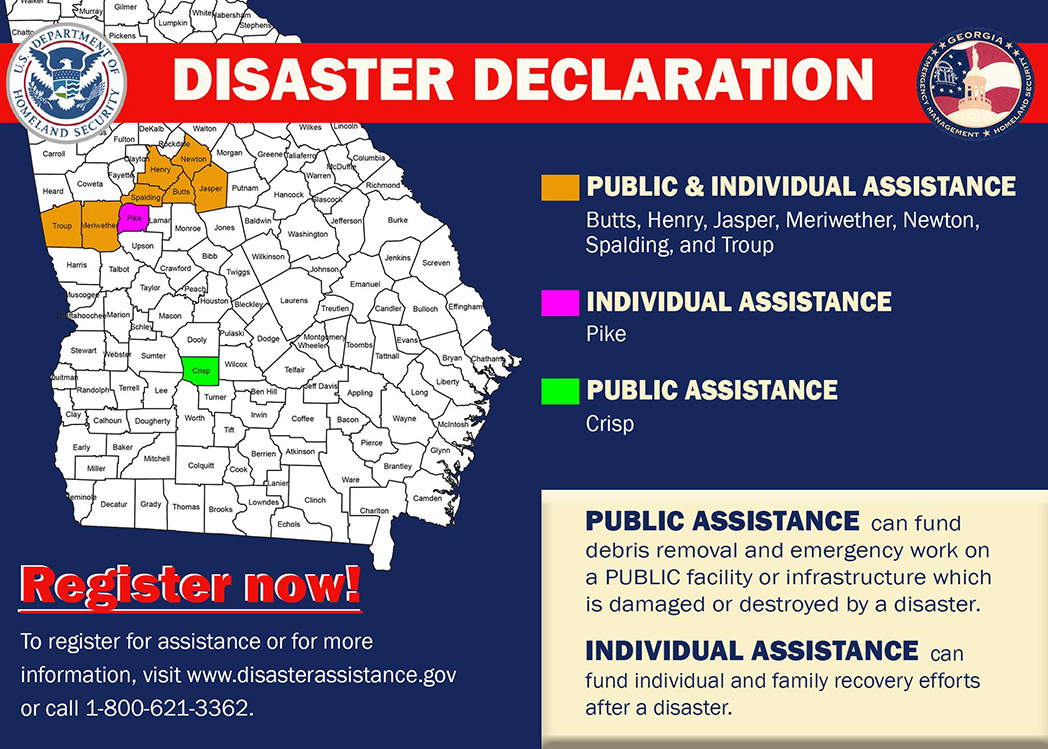 The Major Disaster Declaration for the January 12 severe storms, straight-line winds and tornadoes has been amended. Pike County residents are now able to apply for Individual Assistance, while Crisp County is now eligible for Public Assistance.
Individual Assistance may include grants for temporary housing and home repairs, low-cost loans to cover uninsured property losses, and other programs to help individuals and business owners recover from the effects of the hurricane.
Public Assistance is available to state and local government entities and qualified not-for-profit organizations. It will provide financial aid for debris removal and emergency work.
Individuals in these designated counties can apply for assistance in any of the following ways:
Online at DisasterAssistance.gov
Calling 1-800-621-3362
People who are deaf, hard of hearing or have a speech disability and use a TTY may call 800-462-7585.
For more information on the Major Disaster Declaration or Public Assistance, please email PublicAssistance@gema.ga.gov, and for Individual Assistance, email IndividualAssistance@gema.ga.gov.
---
As part of the Office of the Governor, the Georgia Emergency Management and Homeland Security Agency collaborates with local, state and federal governments in partnership with private sector and non-governmental organizations to protect life and property against man-made and natural emergencies. GEMA/HS's Ready Georgia website and preparedness campaign provides Georgians with the knowledge needed to effectively prepare for disasters. Go to gema.georgia.gov/plan-prepare/ready-georgia for information on developing a custom emergency plan and Ready kit.