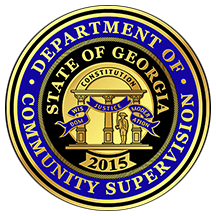 The state agency responsible for the supervision of more than 200,000 adult felony offenders, and Class A and Class B designated juvenile offenders recently conducted an initiative it says was 'successful.'

In what the agency says was an effort to detect continued criminal activity and deter future criminal activity, the Georgia Department of Community Supervision (DCS), in conjunction with over 120 State, Federal, and local partners conducted warrant service, 4th Amendment searches, Parole searches, and field interviews with gang offenders, primarily those associated with the Nine Trey Gangster Bloods across the state on Thursday, October 17, 2019.
"It is unfortunate that many of these gang members, when back on the streets, choose to continue spreading drugs and using violence to further stain our communities," said Special Agent in Charge of FBI Atlanta, Chris Hacker. "That's why the FBI and its many state and local law enforcement partners keep a close eye on gang members  through efforts like Operation Stain Remover, sending the message that if you make the wrong choice, there are further consequences."
Over the past several months, DCS and its partnering public safety agencies collected information on these individuals to ensure a swift and safe operation for the local community and all the law enforcement officers involved
This intelligence-driven operation resulted in 34 arrests, 11 firearms were seized, and narcotics and gang paraphernalia were recovered.
DCS Field Operations Director David Morrison attributes the success of this operation to the partnering agencies. Morrison said in a news release, "In all joint operations of this nature, the number one priority and purpose is to enhance public safety for the communities we serve. DCS is grateful for the agencies and departments who have partnered with us to make this operation successful."
DCS' Security Threat Group (Gang) Program, a unit of the DCS Special Operations Division has dedicated Community Supervision Officers (CSO) who have received specialized training to work caseloads with gang members.  These officers work to address specific challenges that verifiable gang members face when they re-enter society and also collaborate closely with law enforcement partners in detecting continued criminal activity.