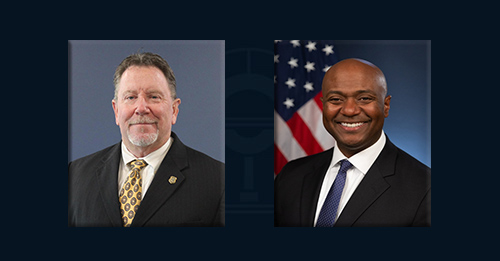 First Lady Marty Kemp today announced Governor Brian Kemp has appointed Georgia Bureau of Investigation (GBI) Director Chris Hosey as Co-Chair of the Georgians for Refuge, Action, Compassion, and Education (GRACE) Commission, and U.S. Attorney for the Northern District of Georgia Ryan Buchanan as a member. Director Hosey and U.S. Attorney Buchanan are replacing former GBI Director Mike Register and U.S. Attorney Kurt Erskine, respectively.

"It takes a united effort from all levels of the public and private sector to end human trafficking in Georgia, and I am proud to welcome Director Chris Hosey and U.S. Attorney Ryan Buchanan to the GRACE Commission as they join us in this fight," said First Lady Marty Kemp. "Their experience in law enforcement and the judicial system is vital to keeping Georgia a safe haven for survivors and a hostile environment for traffickers and buyers. I look forward to their unique perspectives informing our efforts to rid the State of this evil industry."
Governor and First Lady Kemp join in thanking former GBI Director Mike Register and U.S. Attorney Kurt Erskine for their service on the GRACE Commission. More information on the GRACE Commission can be found here. The executive order announcing the appointment of Hosey can be found here.
Chris Hosey was appointed by Governor Kemp to serve as Director of the Georgia Bureau of Investigation effective August 1, 2023. During his 35 years with the Bureau, Hosey was promoted to every sworn supervisor rank in the Investigative Division. Director Hosey began his career with the GBI in 1987 as a Narcotics Agent with the Local Violators Squad. In 2001, Hosey was promoted to Assistant Special Agent in Charge of a multi-jurisdictional drug task force. He also helped to create the GBI's first state/local regional drug enforcement office (RDEO). From 2008-2012, Hosey served as Special Agent in Charge at Region 5 Statesboro Office and at Savannah RDEO. In 2012, he was promoted to Inspector, overseeing drug operations, various general investigative offices, and the GBI Training Unit. In October 2020, former GBI Director Vic Reynolds appointed Hosey as Division Director for the Investigative Division. In November 2022, former GBI Director Michael Register appointed him to Assistant Director. Hosey has served as a GBI Warrant Service Instructor, GBI Firearms Instructor, and Use of Force Instructor. He helped create and is a member of the GBI's Special Enforcement Team. He also serves as a Board Member for the National Alliance of State Drug Enforcement Agencies (NASDEA), a Use of Force Committee Member of the Association of State Criminal Investigative Agencies (ASCIA), and a certified Advanced Emergency Medical Technician.
Director Hosey received his bachelor's degree in Sociology from Georgia Southwestern State University and his master's degree in Public Administration from Columbus State University. He is a graduate of the FBI National Academy, Class 247. He and his wife, Powell, are members of the First Baptist Church of Thomaston. They have been married 34 years and have two daughters, Mary Beth, and Julianne.
Ryan K. Buchanan is the U.S. Attorney for the Northern District of Georgia. Mr. Buchanan was nominated by the President on November 15, 2021, and confirmed by the U.S. Senate on April 27, 2022.
As the chief federal law enforcement official in the Northern District of Georgia, U.S. Attorney Buchanan oversees the investigation and litigation of all criminal and civil cases brought in the district on behalf of the United States. He leads an office of approximately 250 prosecutors, civil litigators, and support personnel in its mission to enforce federal criminal law, advocate for the victims of crimes, and represent the United States' interests in federal court – including in matters involving domestic and international terrorism, organized crime, gang violence, public corruption, cybercrime, narcotics trafficking, civil rights violations, whistleblower actions, and financial and healthcare fraud. The district serves over seven million people. Mr. Buchanan serves on the Attorney General's Advisory Committee (AGAC), a select group of United States Attorneys who advise the Attorney General on matters of policy, procedure, and management. Specifically, Mr. Buchanan serves as Vice-Chair of the AGAC's Terrorism and National Security Subcommittee and leads the Foreign Influence and Nation-State Threats Working Group. Mr. Buchanan also serves on the AGAC's Office, Management, and Budget Subcommittee.
Mr. Buchanan joined the Department of Justice in 2010. From 2010 to 2013, Mr. Buchanan served as an Assistant U.S. Attorney in the Northern District of Alabama. Since 2013, he has served as an Assistant U.S. Attorney in the Northern District of Georgia, where he has also served as the National Security and Anti-Terrorism Council Coordinator and as Deputy Chief of the Violent Crime and National Security Section.
As a federal prosecutor, Buchanan has prosecuted cases involving the support of foreign terrorist organizations and attempts by would-be domestic terrorists to acquire weapons of mass destruction. He has also prosecuted and supervised cases involving violent crimes such as armed robbery, kidnapping, and carjacking; crimes involving the exploitation of children via child pornography production and distribution; and organized crime cases involving national gangs.
Prior to joining the Department of Justice, Mr. Buchanan was in private practice at McGuireWoods LLP. He also served as a law clerk to Judge Inge P. Johnson of the U.S. District Court for the Northern District of Alabama. Mr. Buchanan received his J.D. from Vanderbilt University Law School and his B.S. from Samford University.