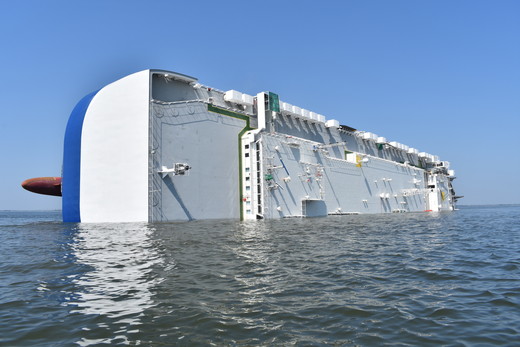 A swimming advisory is in effect and the search for four missing crew members continues after a ship capsized early Sunday morning.
The Georgia Department of Natural Resources isisued the advisory on Sunday afternoon, asking beach goers to avoid swimming or wading in the water on St. Simons Island and Jekyll Island until more is known about the environmental impact of a cargo ship capsizing in the St. Simons Sound.
A commercial freight vessel carrying 4,200 vehicles capsized early Sunday morning just before 3:00 A.M., and as of Sunday afternoon the U.S. Coast Guard Marine Safety Unit out of Savannah was working to rescue four crewmembers.
Coast Guard units involved in the response:
Two Coast Guard Station Brunswick Response Boat crews
Two Coast Guard Air Station Savannah MH-65 Dolphin helicopter crews
Coast Guard Cutter Heron launched to assist
Coast Guard Sector Charleston
Marine Safety Unit Savannah
Coast Guard Salvage Engineering Response Team (SERT) launched to assist
The Port of Brunswick Captain of the Port (COTP) has established an emergency safety zone in St. Simons Sound. Vessels are not authorized within .5 miles of the M/V GOLDEN RAY, which is laid over on its side.
The 656-foot, 71,000-ton vessel Golden Ray was also on fire earlier, leading an emergency spill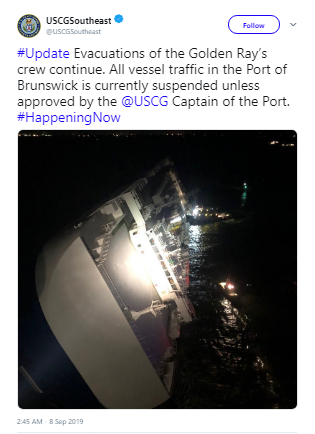 response crew to activate and station nearby at the city of Brunswick boat ramp beneath the Sidney Lanier Bridge. The Coast Guard is preparing to deploy spill containment booms around the Golden Ray. It is unclear at this time if fuel has leaked from the ship.
The Coastal Resources Division of the Department of Natural Resources (DNR) will conduct water quality sampling to ensure the safety of shellfish harvesting beds and swimming beaches. The Coastal Health District is issuing a precautionary swimming advisory until that testing can be done.
The Georgia Environmental Protection Division, a branch of DNR, has also been notified of the capsizing and is monitoring the situation.
Also assisting in the response in addition to the Coast Guard and the Georgia Department of Natural Resources, Moran Towing, SeaTow, Brunswick Bar Pilots Association, and the Glynn County Fire Department.