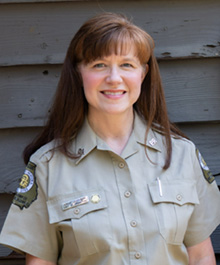 Lumpkin County native Angie Johnson was recently promoted to Assistant Director for Georgia's State Park system, a division of the Department of Natural Resources (DNR). For the past two years, she has served as Chief of Operations, overseeing more than 60 state parks, historic sites and regional offices.

Johnson has worked for DNR for 33 years, starting her career in 1989 in Game Management. She transferred to the Georgia State Parks and Historic Sites Division in 1992 and has worked at Amicalola Falls, Moccasin Creek and Unicoi state parks, then managed Dahlonega Gold Museum. She served as a Region Resource Manager from 2008 to 2011, then moved to Administrative Operations Manager for Region 1 until she was promoted to the Division's Training Manager in 2018.
Johnson has been involved with many initiatives over the years, including the State Parks and Historic Sites Division's operating procedures, administrative procedures and uniform standards. She served on the Search and Rescue team for 22 years. Johnson was the 1996 Ranger of the Year, 2008 recipient of the Governor's Award for Historic Preservation, as well as the 2014 and 2020 Above and Beyond Awards.
Johnson's husband, Lt. Colonel Johnny Johnson, is retired from the DNR's Law Enforcement Division. They have two children and reside in Lumpkin County.