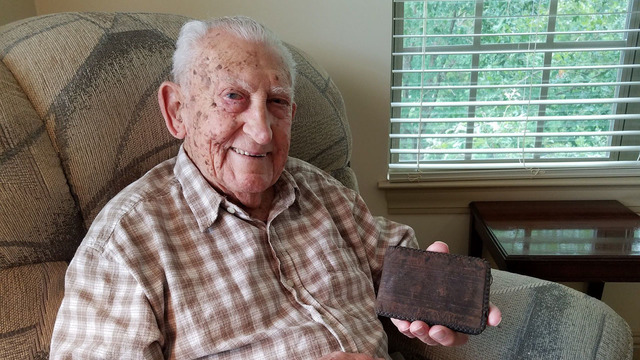 A 100-year-old Georgia man who lost his wallet in an aircraft in California in 1941 which traveled to Europe in World War II had his leather good returned to him after 77 years, news outlets report.

Fox10 spoke with the man, Roy Rotz, who says he is happy to have the wallet back, even after nearly eight decades.
Rotz was working on an assembly line in Santa Monica California where he worked at Douglas Aircraft and was responsible for inspecting electrical aspects of the planes. He often had to crawl through the narrow spaces of aircrafts.
Fox10 reports:
Edgar Warren Birds not only found the wallet but held onto it for decades and even passed it on to relatives when he died. 
Birds had been in the Royal Air Force in Derbyshire England during the war, according to Roy's family. How and when he found it, we don't know. But Birds' family says it was passed down two more generations after his death.
His granddaughter Diane MacKinnon of Scotland located Rotz's family on the internet thinking he'd be long deceased by now.
Part of the trouble in locating Rotz stemmed from his recent exit from the Navy at the time of the loss. His address was USS Phoenix. Rotz now lives in an assisted care facility in Peachtree City.
All of the contents were still in the wallet when it was returned to Rotz.