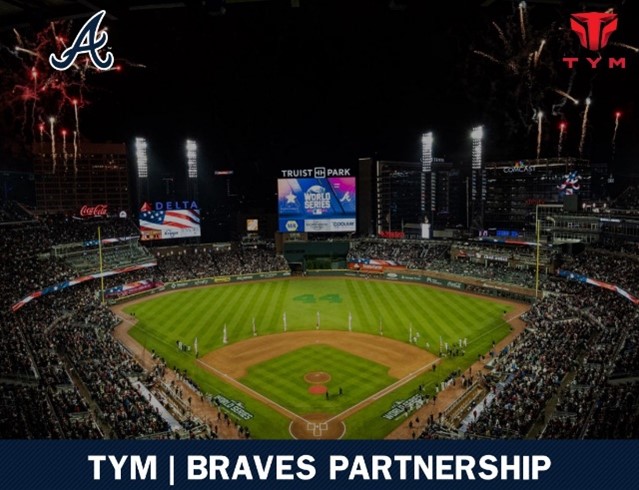 TYM North America, the North American division of the leading South Korean manufacturer of agricultural tractors, has announced its official partnership with Major League Baseball's (MLB) Atlanta Braves. The North American division, which serves as the distribution arm of the firm, has proudly entered into a three-year partnership with the 2021 MLB World Series Champions to expand its marketing and promotional initiatives in 2023.

Through the partnership, TYM North America has secured a brand signage location on the left-field wall of Truist Park, home of the Atlanta Braves. The stadium saw over 3.2 million fans visit during the 2022 regular season. Millions of additional baseball fans viewed games hosted at the ballpark by watching local or national television broadcasts.
"We are honored to be a part of the Atlanta Braves network, and we are proud to sponsor the team," said TYM North America CEO Tony Bae.
TYM North America will also be highlighted on the Atlanta Braves Radio Network, which happens to be the largest radio network in professional sports. With over 170 stations in eight southern states, the team's radio network brings Braves baseball to terrestrial airwaves across the south. This listenership will also be augmented by the 5.3 million unique annual listeners who tune in through in-home streaming devices.
"To say we are excited to be a part of the Braves network would be a massive understatement," said CEO Dohoon Kim of TYM Corporation. "We look forward to working closely with their team in the years to come."
As of Jan. 1, 2023, TYM USA and Branson Tractors have merged to become TYM North America. The merger has allowed the two companies to combine their respective product offerings and bolster TYM North America's tractor line-up.
"We welcome TYM North America to Braves Country," said Jim Allen, Atlanta Braves senior vice president of corporate and premium partnerships. "They are a leader in the tractor industry, and we are proud to have them on our team."
To learn more about the Atlanta Braves partnership and the many ways in which TYM North America is rapidly becoming a powerful force in the agricultural industry, please visit https://www.tym.world/.
---
About TYM North America
TYM creates agricultural equipment that exceeds customers' distinct needs. For over 70 years we have made tough and reliable products, tailored to individual requirements, bringing together alluring form, advanced function, and accessible value in every machine. We are driven to help customers overcome challenges, augmenting productivity through technology and quality. Tough and reliable by design, TYM equipment empowers owners to tackle any obstacle as they shape the world around them.
TYM tractors are designed and manufactured in Korea with the final assembly in the U.S. and made to help shape your world. Whether you are farming, building, clearing land, or doing heavy lifting, our tractors are made to help you accomplish more. TYM tractors range from 19 to 130 horsepower and are augmented by a comprehensive suite of implements and advanced automation technologies. Designed to stand out, engineered for productivity, and built tough, our tractors are made to empower your work.
---
About The Atlanta Braves
Based in Atlanta since 1966, the Braves are the longest-continuously operating franchise in Major League Baseball. Since 1991, Braves teams have earned two National League wild cards, 20 division championships, six National League pennants, and two World Series titles. Atlanta Braves games are telecast on Bally Sports South and Bally Sports Southeast. Radio broadcasts can be heard in Atlanta on 680 The Fan (AM)/93.7 (FM) and regionally on the Atlanta Braves Radio Network. Follow the Braves at braves.com, facebook.com/braves, and twitter.com/braves.
---
Source: TYM North America