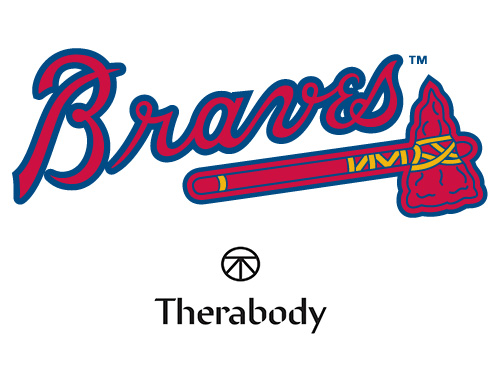 The Atlanta Braves have named Therabody the team's exclusive recovery partner, incorporating percussive and massage therapy and pneumatic compression devices into training, activation, and recovery protocols.
The partnership will integrate Therabody's percussive massage therapy device, Theragun®, into the Braves' pre-game training, in-game muscle activation, and post-game recovery programs to help improve player and overall team performance. Therabody will custom build a section in the Braves dugout for players to use Theragun PROs and Wave Rollers during games and practices, and carts of Theragun devices will be available in the bullpen. Therabody's pneumatic compression device, RecoveryAir, will be integrated into the players' holistic recovery routine.
As the leaders in cutting-edge technology and industry-leading research and development, Therabody will work with the team in educating the players, trainers, and medical staff on whole-body wellness solutions through its education division, Therabody University.
"We are excited to partner with Therabody and bring their cutting-edge technology and education to our players and staff," said Jim Allen, Atlanta Braves Senior Vice President of Corporate and Premium Partnerships. "Their unparalleled products and services will enhance our team's training and recovery and help provide effective, custom protocols to benefit each player."
"Each professional baseball player has different physical needs depending on the position he plays," explains Dr. Jason Wersland, Founder and Chief Wellness Officer of Therabody. "Being able to work with the Braves and implement effective, custom protocols for this incredible team is an honor and I look forward to helping them take their game to the next level.