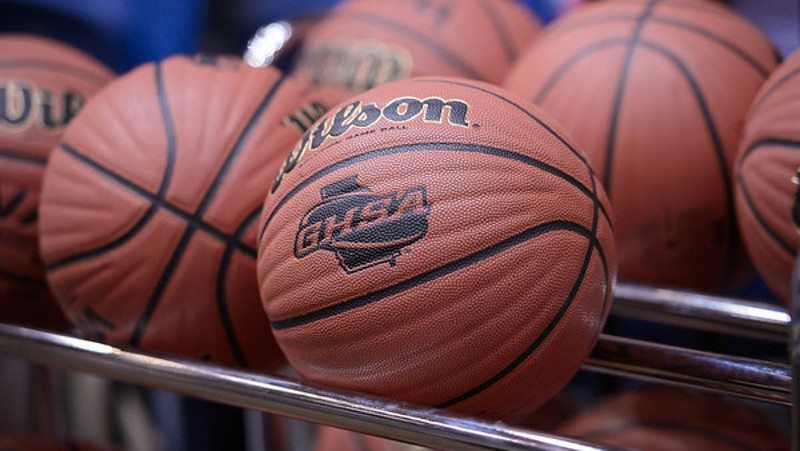 I've followed the bouncing basketball since I was in the fourth or fifth grade. The first game I ever watched on TV was the 1954 state championship game between Russell High School from East Point and Columbus High, the Blue Devils from Muscogee County. The game was played on a portable floor at the old Atlanta City Auditorium — the last year they played in that old barn. Russell won as a ball-hawking guard named Jimmy Stanley put on a dribbling display. (Why I remember his name I don't know.)
The tournament moved to Georgia Tech and in a few years I watched my high school team win two straight state titles at Alexander Memorial Coliseum. Three players on that Sylvan High team have passed away, but I'll join the rest of them at a reunion in April and I'll listen to them talk about those games one more time.
My passion for basketball never subsided. In later years I saw Kareem Abdul-Jabbar when he answered to Lew Alcindor. I took a pre-season bus ride with Bill Russell and John Havlicek. I interviewed John Wooden, Coach K and Adolph Rupp. I traveled to Hutchinson, Kansas for the Junior College National Championships and on that same trip saw Travis Grant show off his scoring skills in the NAIA Championships in Kansas City.
I saw an aging Wilt Chamberlain and thought he was the biggest man I had ever seen. I marveled at Charles Barkley when he was truly a round mound. I got to see an older Oscar Robertston and a young Dr. J. I saw Jerry West before he was the NBA logo. I experienced the magic of Elgin Baylor, the herky-jerky grace of Pete Maravich and I celebrated as John Mengelt of Auburn became my all-time favorite.
It's almost March, the month that won't let me sleep, the month of madness and mid-majors, of upsets, of one shining moment and days when you eat lunch, dinner and a midnight snack as you watch schools you've never heard of challenge the Blue Bloods. It's a month I love, and in my final year writing sports I finally made it to the Final Four. It was appropriate that Georgia Tech was one of the teams competing for the Yellow Jackets and Tulane played in the first college basketball game I ever saw in person.
March arrives on Thursday but this time it's different. College coaches are running from the FBI, not the NCAA. Players wonder if they'll be eligible for conference tournaments. Wire taps are more important than last second tap-ins. Darlings of ESPN pregame shows are talking about the future of the game, not the future of their team.
Before I saw my first game I read about the point-shaving scams of the 1950s, usually involving Big City gamblers. Every year or so there were reports of wrong-doing in the recruitment of a high school star of the moment. There were always reports of students taking tests for the big men on campus. There was Georgia head coach Jim Harrick hiring his son to teach a crib course in basketball so Bulldog players could pad their GPAs.
There are more stories to be told but none of the seasons match this one.
It started with FBI agents swooping down on athletic departments all over the country —including the basketball offices at Auburn. Chuck Person, one of the finest players in the history of the program, had come home to be an assistant coach under Bruce Pearl. His future was bright. He would be a head coach one day, people said.
That dream ended abruptly. Person, a former star in the NBA, was arrested, indicted and fired. He had reportedly accepted nearly $100,000 in bribes. The Tigers also lost two of their most promising players to the growing scandal.
I met Person more than three years ago at a Baptist church in Hoover, just outside of Birmingham. We were there to memorialize Lee DeFore, who left Auburn as the school's all-time leading scorer — a milestone later bettered by Person. Before going to Auburn, DeFore was one of the stars when my high school dominated the state tournament in 1961.
Person and Pearl were there to share their condolences though they hardly knew my former classmate. A long line of friends waited to greet his wife, Anna DeFore, and their children. The two coaches had flown in from Auburn and they could have avoided that line. But they didn't. They waited their turn, which impressed me greatly.
Before the service, I sought out Person.
"You look like you're still the best scorer in this building," I said.
We talked about his connection to DeFore.
"He was Auburn's all-time leading scorer and I broke a lot of his records. He called me right after I broke the all-time record, just to congratulate me. He was always so nice about it," said Person.
I thought about that morning at the memorial service  when I heard Chuck Person was among a flock of college basketball assistants implicated in the scandal. There has been no trial but he may have coached his last college game and if he should be found guilty he could go to jail.
Despite the cloud over this season, Pearl has miraculously led Auburn to an amazing season. He could turn out to be National Coach of the Year. But with his troubled resume, Pearl might not survive to coach another season at Auburn despite what he has achieved with a depleted roster.
That day at the church, I asked Pearl how well he knew DeFore.
"I only met him once at a ceremony in Auburn," Pearl said. "But I felt like I needed to be here today. He's an Auburn man, you know."
Pearl is not the only college basketball coach under fire this season. Rick Pitino, a member of basketball royalty, was fired at Louisville and the sex scandal was enough for the NCAA to force the Cardinals to give up their 2013 national championship trophy. Josh Pastner of Georgia Tech could be on his way out as stories about his off-court shenanigans continue to come out. Sean Miller of Arizona has already been suspended.
Media reports indicate these coaches are not alone. Yahoo Sports says as many as 36 major college programs may be implicated before post-season play begins. Who knows how many current college stars may be involved.
As a long-standing basketball junky I'm disgusted and disappointed. This is my game they're harming. I loved it before Nike and Adidas, before AAU took over summer ball and before TV became more important than a clever point guard.
I'm not naive. I assume cheating was there in the Converse generation— just not as flagrant and tempting. Around the south, college basketball was usually a game played by small-town athletes who had never heard of Madison Square Garden or hefty shoe contracts. Today's recruits have been eating steak and flying first class since they were in high school. They're talented, sophisticated and sometimes greedy.
A favorite old coach of mine from another era once said he wished coaches could play with the guys who showed up on their campus every year. Whack Hyder of Georgia Tech looked at the world that way, even as the world was exploding around him. Basketball will never be that way again, and maybe it never was.
But if basketball could be simple again, then March would not seem so mad.